Custom African Safaris
We handpick the best safari tour companies and match them to you.
Describe your dream African safari.
We match you with 1-3 top safari specialists who are the best fit. They compete to plan your custom safari.
Book the itinerary when you're satisfied.
An African Safari offers the opportunity to unveil a world unknown. The curtains draw and a world previously reserved to tales becomes very real. Witness incredible landscapes and rare animals in their most immaculate form as Zicasso will meticulously design your safari experience for the optimal nature vacation. Your adventure starts today.
AFRICAN SAFARI
INTRODUCTION
AFRICAN SAFARI FOR FIRST TIMERS
WHAT HAPPENS ON AN AFRICAN SAFARI
Visa and Entry Requirements by Country
HEALTH AND SAFETY
WHERE TO STAY
Local Currency
Hygiene
Food and Drinks
For More Information
The Journey
It should come as little surprise that the etymology of safari comes from Swahili. Dependent on where you are in East Africa, safari is a direct translation for "journey" or "long journey." This is a fitting metaphor for thinking of African safari as a vacation. Considering a safari in terms of must-see sights and check lists reduces it to any other sightseeing vacation, while thinking of it as an immersive journey into a vast unspoiled world helps to evoke the inimitably of the experience.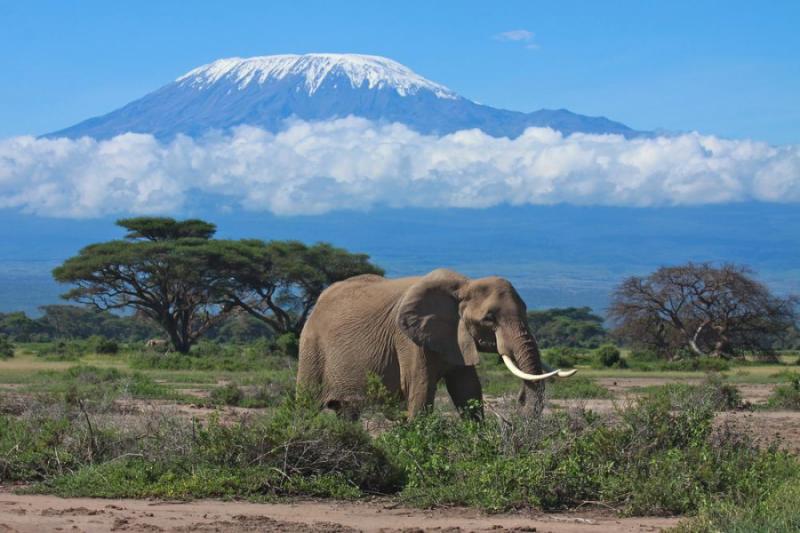 The elephant, one of the Big Five in the foreground of Mount Kilimanjaro
Many new travel experiences can be easy to preconceive; an iconic European city, the next tropical beach destination, an ancient Asian empire. While the destinations may be foreign, there's enough in the name to picture part of the experience. African safari ignites a whole host of competing images, each struggling for believability. Wildlife documentaries and animated movies help create idealized scenes, but trusting them as markers often seems farfetched. A thousand analogies about untamed animal kingdoms sound evocative, yet what does that really mean? Most of the animals can be found inhabiting zoos all across the world; so is safari that much different? While the remote often unimaginable exoticism of African safari is part of the seduction, it's also a huge part of the inhibition.
Traveling to Africa can be daunting. It's a continent that often defies the imagination; one immersed in wild images of safari and natural spectacle, yet one that also comes with negative misunderstood clichés. These pages are designed to provide quick, practical information for anyone planning a trip to Africa, including details about visa formalities, what to pack, accessing your money, and pre-trip healthcare considerations. They are designed to smooth out some of the misconceptions and ensure you're ready for the adventure.
Visiting Africa Isn't That Complicated
Landing in Africa can be surprising. There's often a shock as people discover that there aren't lions on the international airport runway or taxis-sidestepping elephants to reach the terminal door. Yes, Africa can be a wild place, a place where iconic mammals roam freely, and their evocative calls can be heard through the night. But the whole of Africa isn't one big savannah. The continent is relatively well developed, something that becomes the next surprise on most visitors' first day in Africa. Roads are tarred, hotels are luxurious, and there is an irrefutable sense of moving forward. Even in the first few hours, there's an unmistakable feeling that this is a place striving towards the future. It's a feeling that's shared regardless of the country or city you arrive in.
Many people arrive in Africa with a few unresolved anxieties. These might be about safety, health, whether the itinerary will run smoothly, or what will happen in an emergency. This apprehension is usually the reason many people don't visit Africa. So many people treasure the dream of visiting Africa, yet only a fraction of these end up visiting. There's a phantom unease that floats around whenever the words Africa and travel are tagged together. This ghost of anxiety makes the landing in Africa so relaxing. Many have prepared themselves – mentally and in their physical preparation – to be met by the negative connotations associated with Africa. Then they arrive and realize that their fears were mostly popular misconceptions.
Stress melts away, and the continent quickly pulls you into a spell of enchantment and surprise. It is an eye-opening experience, just in a different way to most people imagine. So many hours and days may have gone into preparing and over-preparing for a trip. Africa isn't that much different to visiting any other continent on the world. Preparing for an African safari is much the same as preparing for any other vacation. Yes, there are some specifics around health and some information to check around visas, but this isn't a distant planet requiring oxygen masks and moon-boots. While this is something that doesn't necessarily sound believable now, it's something that makes those first few hours on the continent a wonderful blend of unwinding disbelief.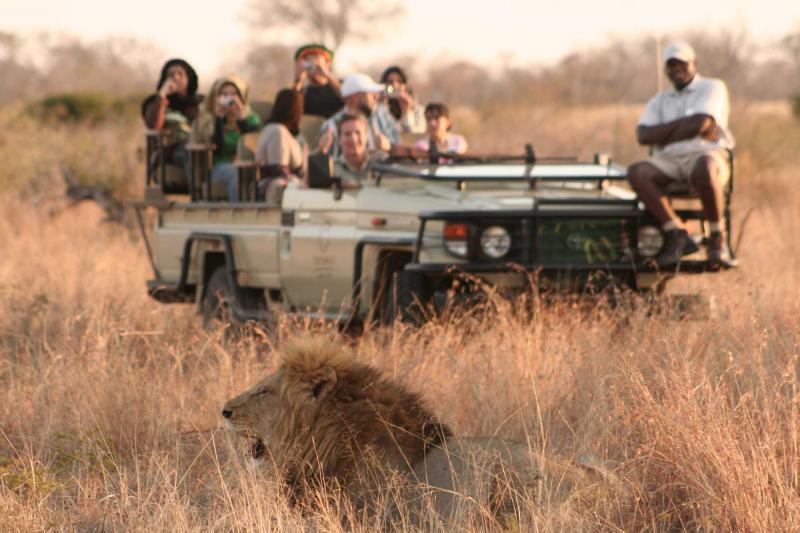 Game viewers enjoying a closer look at an apex predator, the lion, during a game drive in Sabi Sands, South Africa
Even for the most dedicated safari aficionados, safari is both a diverse and all-encompassing term, one that isn't encapsulated in a single moment. Every day brings a thousand new scenes, each one potentially epitomizing the experience, yet simultaneously blending into the overarching impression. For the first time visitors, it's important to start with the basics. Safari is not like being in a zoo, just like Paris's Louvre is nothing like visiting a high school art gallery. One features animals and the other features art, but that's where the similarities end. African safari is about animals in their natural habitat; born in the wild, raised in the wild, and seeking survival in nature's cycle of life. It's easy to recognize that there's a difference between a leopard in a cage and a leopard roaming across iconic bushland. Understanding the difference builds a picture of why African safari is so special.
There's a thrilling intimacy to exploring the wild, proximity and exclusivity ensuring that every moment is delivered in kaleidoscopic high definition. Perhaps the leopard is searching for food, its hunting instincts the pinnacle of an omnipresent wildlife interaction that plays out across a phenomenal scale. Many African safari destinations dwarf US states or European countries in size. And none of them are tamed. Rather than being on the outside looking in, a safari places you on the inside, offering immersion into nature's theater and its perpetual drama and charm. You don't just have front row seats; you're on the stage. Quickly turn around and there's an elephant herd with trunk swinging babies leading the march. Safari is also defined by diversity; every angle is new, every day brings an eclectic concoction of scenes, every park offers something unique, and everyone's experience will be different, even if they're following the same itinerary.
Intimacy, interaction, immersion, scale, diversity; these concepts help answer the conundrum and provide the clues as to why African safari offers some of the planet's greatest travel experiences. The inimitably of the experience is not restricted to nature. There's an all-encompassing quality to African safari, the evocative theater complimented by an exceptional interior. Accommodation, guides, cuisine, transport, sublime surprises; each facet of an African safari experience both blends with the environment and enhances the idiosyncrasy, something that's explored in depth here.
Intimacy
A lion's mane flowing in the breeze, the fearful guise of a zebra herd, the melancholy smile of an old elephant bull cast out from the herd; head out on safari and there's an irrevocable intimacy to every scene. Animals reveal their full character in the wild, redolent eyes and ever-changing expressions always on display. There's often a shared glance, eyes briefly meeting as those on four legs recognize those on two. Some wildlife is always intrigued, maintaining the stare or coming closer; like a lion pride inspecting the safari truck. Some wildlife will skip off to hidden havens, while whole herds will stop and stare, considering their next move. Stop, stay silent, prove you're not a threat, and the intimacy levels increase.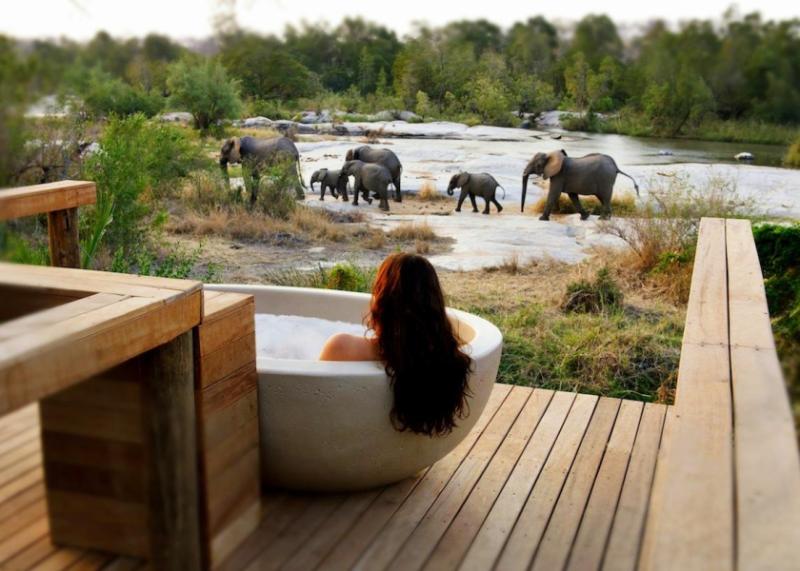 A traveler enjoying the view during a "private" evening bath
Intimacy is partly stimulated by proximity. In an unfenced landscape there is often no limit to the closeness; turn a corner and a dozen giraffe cover the track, wake each morning to grazing ungulates beside camp, and stay quiet as a buffalo herd marches to within meters of your eyes. There are no barriers and such proximity brings an undeniable thrill. Intimacy also stems from the authenticity of what is being revealed. Wild animals are far more expressive than tamed ones and the wild African hinterlands are filled with characters, each with their emotions on full display. Mothers gently protecting calves, young males battling for supremacy and mating rights, babies tentatively becoming accustomed to the landscape they inhabit; these are moments that can define the safari experience, fleeting glances that linger in the memory or played-out dramas providing two hours of entertainment.
Intimacy is also provided by the exclusivity. A hundred faces may surround a lion in a cage. But with such an abundance of wild mammals, African safari is always an exclusive experience, even when exploring the most popular of the continent's destinations. There are usually less than a handful of eyes watching a whole lion pride slumber beneath a baobab tree; yours, your travel partners, and your guides'. Lionesses wake, a male rises, and soon the pride will disappear from view. They might not be seen by anyone for another 48 hours. Even when a dozen people gaze upon the same scene, everyone will be admiring something different. For example, take a herd of 25,000 wildebeest.  Some will be transfixed by interactions within the herd, others focus on the stare of a calf half hidden amongst the grass, and somebody has spotted the cheetah pair hiding in the neighboring grass. It's one panoramic photo with thousands of equally intimate and exclusive close-ups.
Interaction
Many people arrive on safari with a check list. This is completely understandable; safari destinations market themselves by listing the animals people can see. But like all good theater, African safari is not just about the actors advertised in the program. It's about how they interact, both with each other and with the audience. It's not just an elephant herd; it's three mothers gently hiding playful calves between an impenetrable wall of gray, two boisterous males shoving each other in tempestuous displays of power, and a dozen others swinging trunks in unison. Of course, the elephants are not alone as they approach the waterhole. The impala quickly skip away but the largest hartebeest wait, sucking up liquid goodness until a large foot splashes down and they find a retreat. These interactions are not scripted, although they're dictated by the untrammeled nature of the land.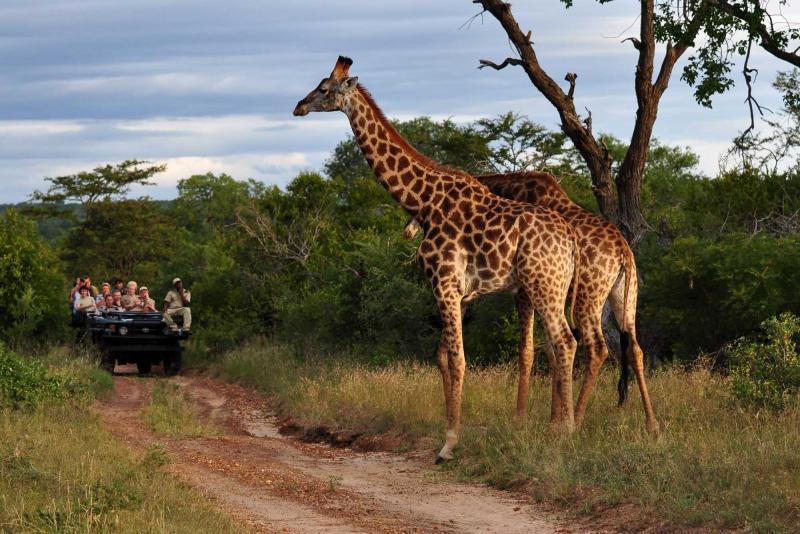 Getting up close and personal with giraffes during a day game drive in South Africa
Watching authentic hunting scenes is perhaps the pinnacle of the wildlife interaction. Sometimes it's over quickly, a flurry of dust hiding a stealthy raid into an ungulate herd. At other times the hunt plays out for hours, leopards dipping their necks with cold precision, approaching a few steps at a time. The drama of predator versus prey symbolizes both the rawness of the landscape and the untamed beauty of the experience. Nothing is adulterated or censored. You're viewing the scenes as they've always been played out and it's as brutal as it is charming. A hunt is far from the only showcase of survival. Males compete for mating rights, herds scare others away from precious water, and scavengers daringly steal from those with sharper teeth.
Glimpsing a certain animal in the wild for the first time is a special experience. Over time, the special experience comes from soaking up interactions that are found everywhere. They're found within herds and prides where horns clash, heads bump, feet stamp, mothers tend to young, teeth bite, sentries yell. Different wildlife is also continually interacting with each other. Some become friends, finding solace in numbers and ingeniously supporting symbiotic survival. Others are respectful enemies. And there's always a fleeting interaction shared with the audience: the delighted viewer on safari.
Immersion
At a zoo, you're on the outside looking in. On a safari, you're on the inside, fully immersed in 360 degrees of drama. A buffalo herd marches past, but turn around and there's a spotted hyena in the grass. Look left and four different antelope species graze on the plains. Watch for ten minutes and then suddenly they scatter. Turn around, and it's only now that the leopard's camouflage is betrayed.  The natural immersion undoubtedly means seeing and hearing more. When the panorama stretches in all directions, the question is not what you can see, but what do you focus on. Wildlife comes from every angle, whether it's the close-up glimpse of a rhino pair, eagles soaring overhead, or the distant echo of hippo's wheeze-honk.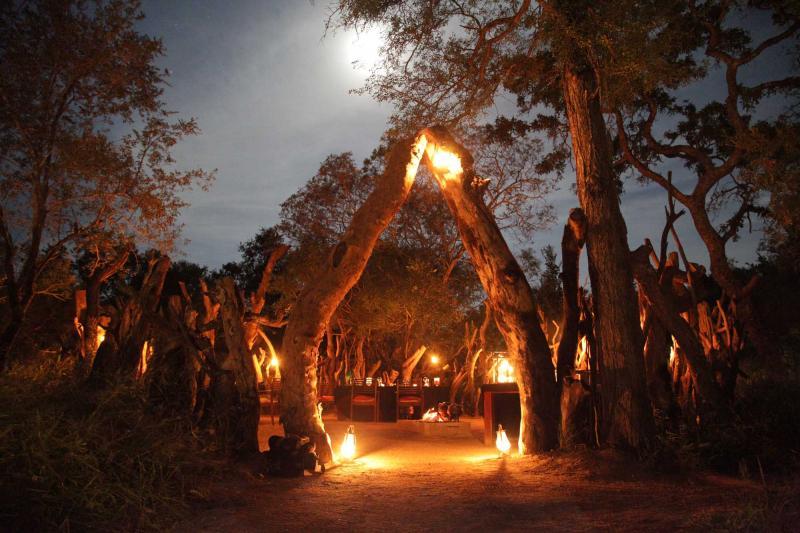 Many luxury safari lodges offer a Boma experience for evening meals, an enclosed area where roasted meats are typically served as main entrees
Remember that this is their environment and you are merely visitors, welcomed into an animal world that never stops. Safari doesn't start by stepping into the safari vehicle, nor does it end the moment you return to camp. As you're immersed in the natural paradigm, the interaction and intimacy is always been played out. Around an evening campfire come the distinct trumpeted calls of elephants. Wild zebra graze on the grass beside the camp tent. Necks of giraffe turn from yellow to black as the sun sets over a bush dinner. While every itinerary is filled with individual activities, the safari experience is not limited to what happens when you're out exploring. The most endearing of safari memories often come from sitting back and watching nature's show slowly unfold. Even when driving out of a park, expect a dozen stops for photos.
Seeing animals in their natural habitat is one experience. Waking up in their natural habitat is completely different. Camps and lodges are nestled deep within the national parks, offering prime wildlife viewing spots and blending into their surroundings. In many cases there are no fences, ensuring an unmitigated feeling of being alone with nature. Lie down in bed and a wild soundtrack becomes a nighttime lullaby, but open the curtains the next morning to find the culprit for the nearby rustling sound. The safari experience continues 24 hours a day and even in the quietest moments it's good to have the camera ready.
Scale
Safari quickly leaves impressions on a micro level, individual moments providing the resonant snapshots of life in the wild. But safari is also about scale. Take the Serengeti as an example; it's bigger than the Netherlands, but there are other game reserves in Tanzania that are four times that size. Four US states could fit into the area covered by Botswana's Central Kalahari Game Reserve. If the Kavango-Zambezi Transfrontier Conservation Area was a country, it would easily rank within the 30 largest in the world. It's actually spread across five African nations. Such scale is perpetually inspiring, both conceptually and during the safari. For example, seeing a few elephants is always memorable. Driving for a day and witnessing thousands upon thousands of elephants is a new experience entirely.
As the hours roll into days, the safari experience starts to leave lasting impressions of this scale. This is not about seeing a few animals. Initially, it's the abundance of mammals and birds that begins to offer a dazzling impression of scale. Even in the smallest of parks and reserves, each day will bring new herds, new battles, and something that's been hiding away until now. Even after a few days there will be a new sight to discover. Micro scenes build upon micro scenes and the macro begins to take shape, the whole experience is elevated when you consider that the scenes are repeating themselves over such an immense area.
In some parks you can drive for a full day and not see another vehicle. Many camps have their own private concession, thousands of square miles reserved for just a small handful of guests. Spend four days in a game reserve and you may only be scratching the surface. Such a thought makes everything all the more impressive. Naturally, a larger area can inevitably support a greater abundance of wild animals. However, size is just one factor when comparing national parks and safari destinations.
What to Expect as a First Time Visitor to Africa
Africa evokes hundreds of impressions, the untamed continent reveling in its mesmerism and mystique. Wild, rugged, untouched; each adjective has a tingling allure yet can be tinged by the negative, Africa's undeserving stereotypes often off-putting to the first time visitor. Will it be safe? Will it be comfortable? Can it be luxurious? Most return from African safari inspired, the experience blending perpetual surprise with an encompassing and sophisticated quality. The inimitability of an untrammeled big game landscape is elevated by the rest of the safari experience. Here's what to expect.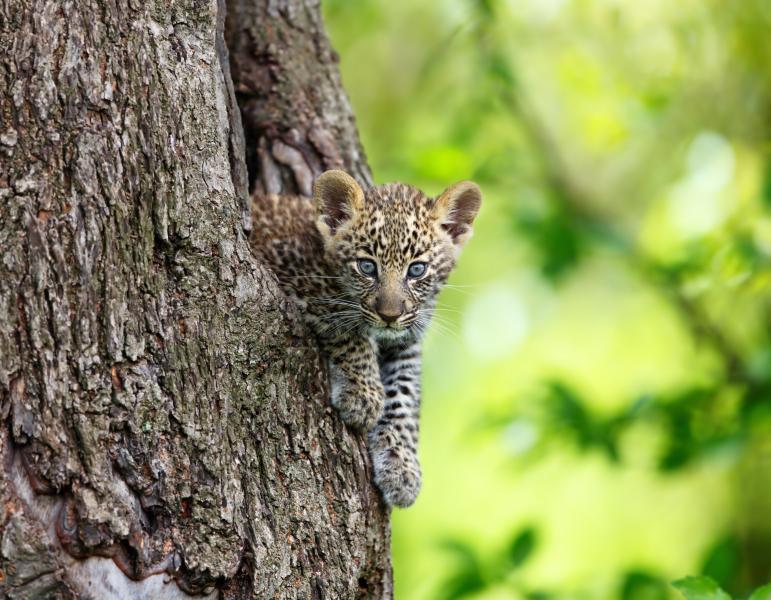 Leopard cub in a tree in Masai Mara, Kenya
There's often little hesitation in imagining that a safari will bring fresh experiences and unique sights. It's undeniably alluring. However, there's often a "but", a niggling thought that inhibits safari reverie from becoming firm reality. Isn't Africa underdeveloped and potentially dangerous? Universal stereotypes and preconceptions about Africa aren't helpful in portraying the continent as a vacation destination. There's no denying that the continent can be a culture shock, especially when there's elephants crossing the highway or monkeys swinging past the lodge verandah. But Africa is as comfortable as any other continent, and its luxury tourism industry regularly leads the world in offering quality and exclusivity. After just a couple of hours in Africa, any lingering negative preconceptions have been shattered. Not only are the destinations safe, they immediately dampen any initial fear.
Safari has always been the mainstay of the continent's tourism and it remains a core part of some countries' economies. It's not a new concept. Safari tourism has developed over many decades, flourishing into a sophisticated and well-developed industry that comes as a surprise to many visitors. The logistics of organizing amenities in the wilderness necessitate ingenious solutions and not cutting corners. Erecting a camp in the heart of lion country is not easy. The rewards for making it happen are endless. African safari accommodation imbues an unexpected quality, combining the colorful character of the continent with the modern touches demanded by Western visitors. They're exceptionally located, immersed in the landscape you came to explore and overlooking prime wildlife congregations.
Distinctive and delightful, the accommodation is another piece in a jigsaw of encompassing quality. Gourmet food combines local organic produce with international panache, land or air transfers are journeys and experiences in their own right, while guides and staff provide a personal touch. African safari is very much a luxury experience, regardless of the budget: campfires surrounded by wandering four-legged silhouettes, picnics beside a popular waterhole, kerosene lanterns flickering as a lion roars. As well as offering traditional notions of luxury, Africa is wonderfully adept at creating its own definitions. While the surrounding hinterland is one of iconicity, filled with roaming big game, the whole experience imbues both old-African charm and the continent's innovation.
First time visitors thinking of Africa almost always have some hesitation. For all the hypnotic daydreams of wandering wildlife and intimate big game encounters, there are the irritating negatives that struggle to be silenced. Almost everyone wants to try out an Africa safari. But universal preconceptions and stereotypes about Africa can be very off-putting. Is it safe? Do they even have electricity? Aren't the beds little more than mattresses on the ground of mud huts?
There's no denying that Africa can be a culture shock. While you're not going to find lions patrolling the airport runway, or rhinos marauding through villages, there's an immediate impression of being catapulted into an exotic land. An effervescent natural bounty is omnipresent, as are endearing smiles from welcoming locals. The landscapes are foreign, the low-rise, low-key buildings don't have the pomp or shimmer of the West, and there's an exuberant sociability to the streets. Life is lived outdoors and in the open. It's not dictated by electronic screens or overbearing time constraints. The whole of Africa runs to an indelibly laid-back rhythm, one that precludes stress and always provides the time for both strangers and friends to greet. Perhaps more than anything, it's this simpler yet inherently friendlier cadence that offers the initial culture shock.
Simpler doesn't mean less comfortable. While the rest of the world falls over itself in trying to convert to organic and ecological, these concepts have always been fundamental to the African continent. A hundred miles from a road or village, in a plain surrounded by elephants, solar panels provide the power and hot water for a mobile camp. Buildings invariably blend into the surroundings because they're built using materials exclusively taken from the same environment; hand-carved wooden beds, thatched bomas the ideal evening meeting place, everything benefitting from space. It's not semi-disposable Swedish furniture or glisteningly glass-fronted. Africa has developed its own style, one bursting with vibrant colors and vivid tones, and one that comes with an unexpected quality.
While Africa has an overarching feeling and leaves embracing impressions, there are immediately apparent contrasts as you move between countries. Some are insatiably green, others iconically scorched; each has its own way of saying welcome. These distinct differences aren't restricted to national boundary lines; the Maasai and Hadzabe tribes of Tanzania are ideologically poles apart. While these disparities may take a couple of vacations to experience, there's always likely to be another trip to Africa. The continent receives many first time visitors; it doesn't see many visitors who say it will be their last visit.
The Encompassing Quality of African Safari
Tourism has been an essential factor in conservation in Africa. While the problem of poaching hasn't gone away, it's rapidly reduced from its peak during the seventies and early eighties. A number of staggering success stories are testament to an inherent desire for the wildlife to be preserved and to prosper. For example, for every story of illicit ivory, the 100,000 elephants migrating through the Kavango-Zambezi Transfrontier Conservation Area provide evidence of a continent-wide commitment. Preserving the natural environment is centered upon the growing number of protected national parks and reserves. These parks charge entrance fees which are often far higher than national parks in the rest of the world. Licenses to provide accommodation are also expensive. While some may argue that the park fees negatively restrict access, the upshot is that African safari is not a place for organized bus tours or mass group tourism. From a local perspective, one tourist paying $100 is better than ten paying $10, offering the same money for conservation at just a fraction of the impact.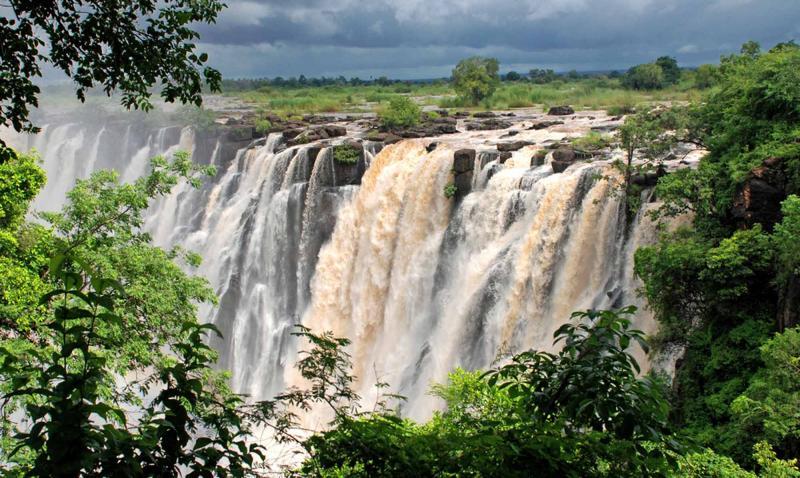 Victoria Falls from the Zambia side looking into Zimbabwe. Many travelers often make their way to visit Victoria Falls while on safari
Invariably, African safari is not a bargain vacation. With the level of park fees and accommodation costs, there isn't an absolute budget option. But there also isn't a budget experience. Nobody would pay $100 to enter a park and then sleep in squalid accommodation. No camp will spend thousands on transporting materials into lion country and then neglect a broken light fitting. Paying certain costs provides a certain expectation of quality and the safari tourism industry excels in responding to this pressure.
Guides always provide a personal touch, as well as a detailed narrative on the surroundings. Staff to guest ratios are always well above elsewhere in the world, with some high-end camps providing personal butlers for every room. Competition for jobs within the tourism sector is high and those that grow within a company are those that can best respond to clients' needs.
Gourmet cuisine also offers markers of quality. Organic local produce is blended with international influence, the chefs concocting lavish and hearty meals throughout the day. Tables are set in the wilderness, perhaps beside a smoldering fire or maybe alone in a forest of antelopes. Little touches maintain the overall impression; like sundowners on elevated platforms above the plains, bath towels folded into the shape of elephants, hidden hides that intensify the wildlife proximity, or traditional drumming circles after dark. The local tourism industries have always been focused on providing high-end unique experiences. They've never had a focus on being budget. And while the costs may make African safari a once in a lifetime vacation rather than an annual trip, they've ensured both conservation and quality across the board.
African Safari is Very Much a Luxury Experience
In many destinations around the world, luxury is measured using star ratings, a standardized system denoting quality. That's not particularly applicable on African safari, the inimitability of the environment and experience necessitating a new set of markers. You won't find a concierge desk or valet service, nor will there be a flat-screen TV with 500 channels. African safari can fulfill traditional notions of luxury; lavish rooms with panoramic vistas, handcrafted opulent fittings, serenity exuding throughout, and an unrivaled personal service. Yet in many aspects it creates its own definitions; kerosene lantern-lit dinners beneath the stars, giraffe saying hello as you sit down to breakfast, opening the curtains and watching the great wildebeest migration. With evocative landscapes providing the canvas, African safari can be as luxurious as anywhere on the planet.
The Experience
As the sun sets on a day of safari, memories are imbued with surprise. Preconceptions have molded and twisted into reality, foreign concepts now understood as the safari itinerary plays out. Picturing an African safari initially comes with dozens of questions. What happens after sundown? How long is a game drive? Is there time to relax?  Safari itineraries burst with exotic reverie. Rhino tracking walking safari, lunch stops beside a waterhole, mobile camps in the forest; it all sounds exciting, but taking the snapshots and creating a firm picture of a safari vacation is difficult. So, what happens on an African safari? What does a typical day look like? Here's an overview.
It can be easy to picture a European itinerary, with visits to museums, city walking tours, or dinner tables booked at a Michelin star restaurant. But even the staple safari activity, the game drive, comes as an alien concept to first time visitors. How long is a safari? How much is game and how much is driving? As much as the destination is exotic, so is a safari itinerary, filled with new concepts and unique experiences. As a starting point, the general mood is one of serenity and tranquility. For all the thrill and excitement of being on safari, most itineraries follow the rhythm of life out on the landscape; cool mornings and late afternoons are when the action is intensified, while the hot midday sun is usually for downtime and relaxing at camp. With the procession of wildlife continually wandering past, these quiet hours radiate charm.
Every itinerary is filled with an often diverse collection of safari activities, each of them flexible at heart. Guides are experts at maximizing the wildlife encounters but the experience is wildly unpredictable. For example, a game drive might last an extra hour because you've spotted vultures and hyenas fighting over a baby hippo carcass. Or it could be cut short as basecamp has radioed in a pride of lions hanging out by the camp's waterhole. Some activities are more structured, like hot air balloon rides or river boat cruises, but a vast proportion of an itinerary will be constantly tinkered dependent on the mood of both the customer and the animals. Walking safari, nighttime drives, horseback safari; new impressions are offered by the myriad of activities, each providing a compelling angle.
Safari continues at camp, where there are many more exotic concepts to consider. What are the bathroom facilities like? What do you eat? Is there even electricity? While the camps excel in blending into the environment, there is more than adequate comfort and an ongoing itinerary of surprise; cocktails at sundown, mid-afternoon snacks, detailed narratives provided by wildlife specialists, stargazing instruction, guided walks in the vicinity. And while this might be the middle of the bush, the amenities are much like the comforts of home. Using traditional methods and modern touches, safari camps provide a blueprint in ecological existence.
Moving between destinations is part of the experience, the road journeys, another game drive, and the aerial flights providing stunning impressions of scale. The wilderness excels in offering solitude and calmness, an unexpected addition to a vacation that evokes notions of drama. Even on a drive between parks there are always a dozen photo opportunities. And while safari destinations and itineraries are based on similar ideas and activities, there's a diversity and individuality that shines throughout.
African Safari is Generally a Relaxed Vacation
Picture a relaxed destination and white sand or charming old towns usually spring to mind, not a landscape dominated by quarreling hippos or rampaging ungulate herds. Unlike the swaying palms and white sand, African safari is undeniably unpredictable, the experience dominated by the interactions found in an untamed environment. Individual wildlife highlights will differ from person to person yet an overarching impression of serenity radiates through almost all safari itineraries. There's no sound from passing traffic, no rushing around cramming a hundred destinations into one day, only the touches of personal service that prohibits stress. Read a book and lift your eyes above the page as a giraffe tower roams nearby; break for coffee with panoramas from a wildlife documentary, and sit around a campfire that crackles intermittently. There is always downtime on safari, and there is often an evening atmosphere of old-world charm.

An elephant playing in the foreground of a safari lodge
Safari itineraries reflect the pattern of nature. When the African sun beats down it scorches the landscape, most four-legged residents seeking out shade or cooling in wallowing waters. In challenging environments like these, everything must conserve energy to survive. It's through these hotter midday hours that a good safari itinerary also conserves and re-energizes, either at camp or by taking a leisurely lunch in a shaded area. There's little point driving around for three hours when the wildlife is hiding away and sleeping. Likewise, there's every need to balance the excitement with the beauty of the camp.
Typical Safari Activities
The landscapes are most active in the morning and late afternoon; predators prowling, herds moving, grazers grazing. The most typical safari day will include two guided daily activities, often coinciding with these more exciting times in the hinterland. The rest of the itinerary will be about relaxing at camp, where the safari sights invariably continue. In some destinations, particularly the larger national parks and reserves, an alternative is a longer full-day game drive, with a leisurely stop for lunch en route. This enables visitors to cover a greater area and can also be a preferred choice in a park of multiple habitats and ecosystems.
The mainstay of safari is a guided game drive, usually in an open-sided four wheel drive vehicle. The pace is slow and the roads probably rough and rugged. There are set trails through every park and reserve and driving off these routes is illegal. Preserving the wilderness depends on not trampling through native habitat and some national parks have name and shame boards of drivers who've been temporarily suspended. For every game drive, the guide will have an idea of the route to take, something that's often decided through conversation with the customer. Certain places are renowned for certain animals and the length of the drive will be dictated by the route. However, once the game drive starts, the unpredictability of the environment takes over. Watch a leopard out hunting or follow an elephant herd and a two hour loop becomes three hours long. Whenever something is spotted, the driver stops, cuts the engine, and waits until everyone is ready to continue.
Walking and boat safaris follow a similar routine, usually with a flexible yet partly predetermined route. The speed is dictated by the group and the variable nature of the environment. Like a game drive, there are rules on where you can explore and which areas must be seen from a distance. Private concessions and private game reserves usually offer more freedom. In some safari destinations, morning and afternoon game drives are the norm. In others, combining activities provides a more complete impression of the landscape, yet they can't cover the same distance as game drives.
Other options make the typical safari day even harder to define, like a hot air balloon or aerial safari. Nighttime game drives are vastly different, the eerie blackness increasing the intimacy and thrill of the experience. With a single roving spotlight, nighttime drives normally provide some close-up encounters that can't be experienced when the wildlife can see the vehicle coming. Nocturnal wildlife emerges from their hiding places and sights are enhanced by a greater focus on sounds. There are yet more potential safari activities dependent on the destination, like galloping on horseback or even mountain biking alongside zebra.
The Flexibility of a Safari Day
While the daily itinerary will probably be planned in advance, safari is ever flexible. Certain activities are better at different times of the year. For example, as the dry season rumbles on, wildlife congregates around the remaining sources of water, often meaning the destination is suited to longer game drives with leisurely time spent at these known places. When the wildlife scatters widely during the rains, a walking safari can bring continual sprinklings of big game viewed from ground level. Planning a day's activities will also depend on the overall itinerary. Boat cruises and traditional mokoro canoe safaris are very popular in Chobe National Park and the Okavango Delta; but doing them every day on a week-long itinerary can be overkill.
Regardless of the activity, guides plan routes based on current knowledge. If rhinos have been spotted in the same area for a few days then the game drive is likely to veer this way. Radio contact alerts other guides to certain sightings, so the plan may quickly change if an elusive sight is prowling off route. On longer safari vacations, each activity is likely to be tailored dependent on what has gone before. There's no point spending a day seeking out elephants if you've just been on safari in Tarangire National Park. Guides like to ensure that their visitors are able to admire the full range of African wildlife, so especially towards the end of a safari vacation, routes and activities will look to offer something new to the collection of memories.
Safety is also a factor in planning a safari day. While images of walking alongside lions are a popular misconception of safari, there could be instances of quickly changing the plan because wildlife is on the prowl. Guides use detailed knowledge and understanding to predict animal behavior and ensure safety. For example, a candlelit dinner in a forest often populated by elephants is a magical touch to an itinerary. If two teenage males have been fighting throughout the day, inhabiting their space will not be safe. A mobile camp may be moved at the last moment because a leopard has been spotted in the vicinity. Paddling past a hippo pod is a wonderful experience, but not when the females' scents are sending males into crazed moods. No matter how well planned a safari itinerary has been, it's always important to stay flexible and accept that changes are sometimes inevitable. It can be disappointing, but remember that responding to the environment is also what delivers the most endearing of safari memories.
What Happens at the Safari Camp or Lodge
Solitude and space are defining features of safari accommodation. While all safari activities are guided, most camps like to leave guests to their own devices. Sit back. Listen. A glimmer of rustling interrupts the silence, and then the footsteps gradually get louder. An elephant passes. A hartebeest appears from the periphery then continues its journey. Silence again. While safari activities are about exploring and seeking out wild game, spending time at camp is about relaxing and allowing nature's show to slowly reveal itself. There's usually a series of vantage points; private verandahs, communal areas around a campfire or in a traditional boma, perhaps a swimming pool with wide-open vistas. Many camps are situated over water, ensuring the procession of wildlife that must come for a drink. Stay for a few days and it's easy to start recognizing the same creatures appearing at the same time each day.
The majority of safari itineraries are inclusive of meals and most drinks; which is almost essential when the nearest restaurant is 40 miles away.  Camps pride themselves on the quality of their food and in offering unique dining experiences. Expect dinner tables screaming of charm, new tastes as various meats are roasted, and no waiters rushing you to finish because someone's waiting for a table. Like the itinerary, these meals are often flexible. A quick and easy breakfast may be served before a sunrise game drive, with a heartier brunch awaiting your return. Meals can be packed up and served en route, especially when there is a long activity to follow. Back at camp, snacks and drinks are served on demand, the personal service reflecting what's demanded by the most discerning of guests.
Much like a five-star hotel may lure its guests to a 20th floor swimming pool overlooking the city, safari camps and lodges look to maximize their surrounding bounty. When a camp is first erected the wildlife may have been scared off. Over time it returns, recognizing that this foreign place isn't a threat. Groups of habituated animals become part of the camp itinerary. For example, staff can predict that a large bull elephant will wander through just after sundown every day, or a resident herd of buffalo come to graze around breakfast time. The camp uses this knowledge to plan surprises that add extra excitement to the day.
Amenities at a Safari Camp or Lodge
Safari camps are often as ecological as it's possible to be. There's no garbage collection truck in the bush, no power lines, and little connection with the modern world. Electricity is usually of the low-key solar powered variety, enough to provide ample soft lighting and charge a phone. There's little need for anything more. Some camps do without electricity and this can be equally charming, kerosene lanterns and candles offering a more complete immersion in the bush. These aren't universal rules though. Larger lodges and private game reserves may have more permanent electricity.
Bathrooms and showers almost invariably offer hot water, the water temperature fueled by fire. Some will have direct plumbing and look much like the shower at home. Others may have hot bucket showers, a more traditional method of getting yourself clean. It's rare to not have a toilet seat; however, toilets in the wilderness are not always the water-guzzling flushing variety. Composting long drop toilets are far kinder to the environment. This traditional method is usually finished with a western style ceramic toilet seat. While clichés about Africa are wide ranging, it's very unlikely your facilities will include a hole in the ground.
Connecting Safari Destinations
Safari destinations revel in their specialties and idiosyncrasies, each providing a new look at Africa's wilderness. Most safari vacations combine at least two, and perhaps five or more of these destinations, from large national parks to smaller private game reserves. In many cases, traveling between them is never lost or dull time. Parks connect to each other as they form jigsaw pieces in larger conservation areas. For example, the journey from the Serengeti to the Maasai Mara is an uninterrupted game drive, the vehicle following the same route as 1.5 million wildebeest during their great migration. In other counties, while the wildlife may become scarcer, you're driving through beautiful wilderness on quiet roads that connect parks and reserves.
Aerial journeys provide a quicker transportation between safari destinations. In countries like Botswana, Kenya, and Tanzania, there are scheduled flights that follow popular routes between national parks. Think tiny eight-seater aircraft touching down on remote airstrips flickering with dust. Chartered services are also available and some of the luxury camps offer aerial transfer as standard. Apart from minimizing travel time, these flights offer dramatic views onto the herds and landscapes' diversity, providing a dazzling impression of scale.
The Individuality of Safari
The safari umbrella is a broad one, encompassing a dozen countries and an eclectic range of experiences. At the heart of every itinerary is maximizing the immersion and interaction with nature's theater. Yet no two safari vacations are ever the same. An ongoing originality shines through the experience. For this reason, the best safari vacations are those that stretch over many days and absorb two or more destinations.
Visa Requirements at a Glance for East and Southern Africa Countries
Visa and immigration requirements vary across Africa. With a US, Canadian, or European passport, none of the countries in East or Southern Africa provide any significant challenges. However, some planning in advance is required for particular countries. The following snapshot refers to citizens of US, Canada, or the European Union traveling for tourist purposes.
Botswana – No visa required.
Ethiopia – Visa required. Obtain on arrival at international airports. Obtain in advance when arriving by land.
Kenya – Visa required. Obtain in advance.
Lesotho – No visa required.
Malawi – Visa required. Obtain on arrival.
Mozambique – Visa required. Obtain in advance.
Namibia – No visa required.
Rwanda – Visa required. Obtain on arrival.
South Africa – No visa required. Note the special requirements for traveling with children.
Swaziland – No visa required.
Tanzania – Visa required. Obtain on arrival.
Uganda – Visa required. Obtain on arrival at international airports. Obtain in advance when arriving by land.
Zambia – Visa required. Obtain on arrival.
Zimbabwe – Visa required. Obtain on arrival.
Country by Country Entry Requirements
All information contained here refers to people who are citizens of the USA, Canada, or the European Union. This information is relevant for people visiting these countries for tourism purposes. Visa and entry requirements for other nationals and purposes vary.
For most countries you will be required to have a passport with a six-month validity, two blank pages, and no noticeable damages or tears. It's also always recommended to carry a print-out of your travel documents, particularly any confirmation from the tour company and your return flight tickets.
Information correct as of December 2015.
Botswana
No visa is required for stays of up to 30 days. Passports are stamped upon arrival with 30-day validity at land borders and airports.
Ethiopia
Visas are required to enter Ethiopia. These cost around $50 for one month and are valid for a single entry.
Visas can be obtained upon arrival at Addis Ababa (Bole) or Dire Dawa International airports. If using any land border or another airport, you'll need to arrange a visa in advance. Proof of a yellow fever vaccination is required.
Kenya
In September 2015, Kenya introduced a new e-visa system. Visitors must apply for and obtain an e-visa before traveling to Kenya. Note that this replaced the previous system of obtaining a visa upon arrival at the airport. Apply for a visa here.
Single-entry tourist visas cost $51 while multiple-entry visas cost $101. Processing time can be up to one week so apply far enough in advance. Note that you are allowed to visit Tanzania, Uganda, or Rwanda, and then return to Kenya on the same single-entry visa. However, immigration rules change regularly, and this should be checked before travel. If traveling between different East African countries, you may be more comfortable with obtaining a multiple-entry visa.
A certification of yellow fever vaccination is required of all visitors. This certificate will also need to be presented for onward travel to other African countries.
A single East Africa Tourist Visa has been introduced and allows a stay of up to 90 days in Kenya, Uganda, and Rwanda. The visa costs $100. Implementation of this visa has been slow, and it remains easier to obtain individual visas for each of the countries. Furthermore, continual changes in the cost of tourist visas mean it's still unclear if the East African Tourist Visa will be fully rolled out. The Kenyan e-visa system is being developed so that the East African Tourist Visa can be obtained online. However, this facility is not yet operational. Should this become available it will make this visa a recommended choice for travel in these three countries.
Lesotho
A free entry visa can be obtained upon arrival at any of Lesotho's borders. The length of this visa can vary but will cover all your planned activities in the country, provided you can show your travel documents.
Malawi
As of October 2015, visitors to Malawi require a visa. This can be obtained upon arrival and costs $75. It can also be obtained in advance although the ease of obtaining at the border far outweighs the complications of sending a passport to the Malawian embassy. It's also more expensive to get the visa in advance.
Mozambique
Visitors require a visa which must be obtained before arriving in the country. The cost of this visa varies dependent on your nationality and the country in which you're applying for the visa: oddly, a visa for a US citizen will cost significantly different amounts at the Mozambique embassy in Washington DC and the Mozambique embassy in Swaziland. Expect to pay around $60 – 120 for a single-entry visa. Proof of an onward ticket and a confirmed travel itinerary is required. Your tour company can provide this.
While Mozambique has introduced a visa upon arrival, its implementation is not widespread, and there are occasional stories of visitors being turned away. It's always recommended to obtain a visa in advance.
Namibia
No visa is required for stays of up 30 days. Passports are stamped upon arrival with 30-day validity at land borders and airports.
Rwanda
30-day tourist visas can be obtained upon arrival at all entry points. These cost $30, payable in clean post-2006 bills. International airports and some land borders also accept payment by Visa / Mastercard.
South Africa
No visa is required for tourist visits of up 90 days. Proof of onward or return travel is required so have your flight details readily available for immigration. Visitors are given a 90-day stamp upon arrival at any of the borders or airports. Note that if you leave to a neighboring country and return to South Africa, you will enter upon the same 90-day validity and existing stamp. Also, note that immigration officials could give you a reduced number of days if you're unable to show evidence that you're visiting as a tourist. A copy of your flight details stops any issues.
New rules regarding traveling with children were introduced in June 2015. If traveling with a child to South Africa, you must be able to produce the child's full unabridged birth certificate. A shortened birth certificate is not accepted. There are additional requirements if the child is traveling with just one parent. This leaflet from the South African Department of Home Affairs has more information, and your travel agent can assist in clarifying the situation. Note that this change in visa requirements is being challenged by the tourism board within South Africa due to its adverse effect on tourism numbers. It may be revoked at a later date.
These rules regarding traveling with children mean that birth certificate checks will be made by airline staff before you depart to South Africa. Also, note that they apply to anyone traveling via South Africa so are likely to apply to family vacations in Botswana or Namibia.
Swaziland
Visa is not required for stays of up to 30 days. Passport stamped upon arrival at all entry points.
Tanzania
A single-entry 90-day tourist visa can be obtained upon arrival at any of the airports or land borders. This costs $50, to be paid in untarnished post-2006 bills. The Tanzanian government promotes the idea that the visa costs can be paid in UK£ and euros, however, immigration officials are likely to ask you to exchange your money into US$ upon arrival to pay for the visa.
Uganda
Visitors require a visa. This can be obtained upon arrival at Entebbe Airport (the country's main airport). A visa can also be obtained upon arrival at the country's land entry points. However, there are indications that Ugandan authorities may be making this more difficult. If not landing at Entebbe Airport then it's recommended to obtain a visa in advance, unless your tour company advises otherwise.
Single-entry tourist visas cost $100. At Entebbe International Airport, this must be paid with untarnished post-2009 series bills. Immigration officers will determine the length of the visa, from two weeks to three months. Carry a printout of your travel documents to confirm the details of your trip and the length of visa you'll require.
A yellow fever vaccination certificate is required for anyone visiting Uganda.
Zambia
A visa is required, and this can be obtained upon arrival at any of the country's entry points. This costs $50 and needs to be paid with clean post-2006 bills.
A new UNIVISA allows travel to both Zimbabwe and Zambia and can be obtained upon arrival at Kenneth Kaunda International Airport (Lusaka), Harry Mwaanga Nkumbula International Airport (Livingstone). It also costs $50.
A certification of yellow fever vaccination may be required to enter Zambia if you are traveling to the northwest of the country.
Zimbabwe
Visitors require a visa to enter Zimbabwe, and this can be obtained upon arrival at the airport or any of the land border points. A single-entry visa is valid for 30 days and costs $30 for US citizens. Costs for other nationalities vary from $30 - $50. This must be paid in clean post-2006 bills. You are required to show your onward or return ticket.
Zimbabwe and Zambia recently introduced a joint UNIVISA that offers 30 days within both countries. It costs $50 and is available at Harare International Airport, Victoria Falls International Airport, plus the land borders at Kazangula and Victoria Falls.
Health Considerations Before You Travel to Africa
Negative connotations of Africa have created the image of a disease-ridden continent packed with strange exotic diseases. It's something that puts off many potential visitors, even if it's only supported by a fragment of truth. Health is improving across the continent, despite the media scaremongering concerning Ebola (more countries outside Africa reported Ebola cases than countries within it). The following information is intended to offer practical considerations when you're preparing for a trip.
Africa is a Big Continent
Africa is the world's second largest continent. It stretches down from the wisps of Sahara Desert that line the Mediterranean Sea to the windswept meeting point of the Indian and Atlantic Oceans. Crossing from east to west takes you across towering volcanic mountain ranges, thick, impenetrable rainforest, sweeps of dusty savannah, muddy hills, and open desert. Cairo to Cape Town is a similar distance from New York to Rio de Janeiro, yet nobody associates what happens in Brazil with what happens on America's East Coast. Unfortunately, there's widespread belief that treats Africa as a single country. This implies that rare tropical diseases found in remote West African countries are widespread across the whole of Africa. Or that the image of HIV-suffering villages is universal across all the countries in the continent.
The tendency to consider Africa as a single entity has major implications because most stories about this continent are of the negative kind. So when Ebola broke out in three small West African countries, many people reconsidered visiting East Africa or Southern Africa, despite these destinations being thousands of miles away. Health considerations will put some people off visiting Africa, especially the risk of malaria for families with young children and older travelers. However, it's important to look past the hype and consider the facts.
Medication for Existing Conditions
As advised for travel to any country, it's recommended to pack all your prescribed medication. Overstocking for the trip is useful in the case of unforeseen circumstances like losing luggage. You'll find pharmacies all across Africa, and there's a very good chance that you can find similar medication to what you take at home. In an emergency, there's a strong possibility that a pharmacy will stock what you need. However, finding this medication is likely to involve a longwinded search across a city and visits to multiple pharmacies. Also, pharmacies will probably stock different brands to what you use at home.
Vaccinations Commonly Advised for an African Vacation
Specific inoculations for your trip should always be recommended by your own physician or doctor. To cover yourself for a trip to anywhere in Africa it's usually advised to get vaccinated for hepatitis A, hepatitis B, tetanus, typhoid, and diphtheria. However, vaccinations for your trip will depend on your destination and doctor's advice. 
Yellow Fever
Yellow fever is widespread in Central, Western, and parts of East Africa. It's slowly been controlled across the continent, and its threat has rescinded significantly over the last decade. As of late-2015, Kenya and Uganda are the two commonly visited countries with risk of yellow fever. Ethiopia also carries that risk, but the whole of Southern Africa is yellow fever free. Notably, in recent years, yellow fever vaccination is no longer required for travel to Tanzania and Zambia.
A certificate of yellow fever vaccination is required to enter Kenya or Uganda. This must be presented to officials at immigration. In reality, the risk of contracting yellow fever is extremely low. However, current WHO advice and government regulations make the vaccination a necessity before arriving in the country. Those arriving without a yellow fever certificate can sometimes be vaccinated by nurses at the border or the airport for a fee. This service is more readily available at international airports than land borders. You will also need to show this yellow fever certificate when traveling to other African countries after visiting Kenya or Uganda.
Malaria
Malaria is an infectious disease carried by mosquitos. Unfortunately, it is is prevalent across most of Africa's safari destinations. The risk varies by country and by season. The rainy or wet season brings increased mosquitos and increased risk, another reason the dry season is preferred for safaris. Ironically, malaria was one on the major factors in Africa's wilderness being preserved. Colonial explorers feared the areas where malaria was especially high, and these later coincided with the areas that remained dense with wildlife. Through health concerns, the wilderness was able to continue as a wild realm and not become gazetted for agricultural use.
Southern Africa has made huge strides in combatting malaria, and the majority of the region is now considered malaria-free. The exceptions are parts of Kruger National Park and the lush landscape in the north of Botswana. It's predicted that Botswana will be malaria-free within a few years, and the great rivers in the northern of the country will be added to the list of malaria-free safari destinations. The risk in East Africa is greater and more common across both wet and dry seasons. Mosquito nets are the norm in areas where there is a risk from malaria. These are provided by lodges and camps
There is no malaria vaccine. Visiting any malarial destination requires you to take anti-malarial medication. There are four main options on the market, and these can be advised by your physician or doctor. Most malaria medication must also be taken before arriving in Africa. Again, this can be advised by your doctor. 
Ebola Has Never Been Recorded in Any African Safari Country
There is no Ebola in Africa. There has never been any outbreak of Ebola in any of the countries of East or Southern Africa.
The Ebola outbreak was restricted to three countries in West Africa. These countries – Guinea, Sierra Leone, and Liberia – have never been on the regular route for tourists visiting Africa. Africa is a huge continent. Interestingly, Spain and southern Italy were geographically closer to the Ebola outbreak than Tanzania and South Africa. Furthermore, there were more Western countries reporting Ebola cases countries in Africa. This is predominantly because Western countries were connected to West Africa on direct flights. There is only one direct flight connection between West Africa and East Africa. There's also only one direct flight connection between West Africa and Southern Africa. Not only were the main safari countries further away than Europe, they can only be accessed by traveling across thousands of miles of desert, tropical rainforest, and wilderness without roads.
The official declaration that the Ebola outbreak was over barely made the Western press. It certainly wasn't front-page news or a television headline. While the outbreak was feverishly reported, the success in containing and removing Ebola wasn't considered an important news story. Ebola decimated tourism in West Africa and had a major negative impact on safari numbers in East and Southern Africa, despite these countries being nowhere near the Ebola outbreak. Selective media representation is important to highlight for other reasons. For many decades, Sierra Leona, Liberia, and Guinea have been fighting against cholera outbreaks. During the Ebola outbreak, the number of cholera cases continued to exceed the number of Ebola cases in West Africa. This isn't a fact intended to scare, more to recognize that international reporting of Africa has a tendency towards dramatization.
Not visiting East or Southern Africa because of Ebola, would be the equivalent of not visiting New York because of a disease that once existed in the Amazon Rainforest. It's all the Americas, right? Africa isn't one country. It's a misunderstood continent. Ebola is absolutely no risk for an African safari. Nor was it ever a risk for anyone on an African safari.
Is Africa Safe to Visit? 
All-encompassing generalizations have consistently left a negative imprint on the growth of tourism across the whole continent. For example, the Ebola outbreak in West Africa was a major factor in tourist numbers dropping in East Africa. The epicenter of the outbreak is actually closer to Spain and Italy than the safari destinations of Tanzania and Kenya. Africa is a continent of 2000 tribes and over 50 countries. Mozambique and Rwanda are as different as Russia and Italy, although the two European countries rarely get mentioned in the same breath when it comes to vacation destinations. Nobody discounts Portugal as a destination because there's fighting in Ukraine or a bomb went off in Paris. Yet many are quick to sideline Botswana because of a negative news story somewhere in Africa. The result is a sometimes fearful hesitance to travel to Africa. Within just a couple of days, most visitors are wondering why they were initially so skeptical or tentative.
In general, destinations are in Africa are as safe to visit as anywhere else in the world. In particular, those with burgeoning and developed tourism industries, like the countries in East and Southern Africa, pose no greater safety threat than a standard European city. Crime rates in many US cities dramatically dwarf those in most African countries.
Preconceptions of unfenced landscapes and dangerous wild mammals also pose frequently asked questions about safety. If the camp is surrounded by the Big Five, doesn't everyone get eaten or trampled? Local tribes have coexisted with lions and the rest of the cast of the Big Five for thousands of years. Generations of knowledge have been developed and passed down, ensuring ways to live harmoniously and safely with nature's greatest mammals. It's this ancestral knowledge that means visitors don't need to view the wildlife through fences. And it's this exacting understanding of the wild that ensures safety in an untamed land.
A Sophisticated and Developed Tourism Industry
It's an inherent and intricate understanding of the environment that has helped the continent develop a very sophisticated and developed tourism industry. The basic logistics of offering African safari can be baffling to visitors. Travel companies must find a way to peacefully and harmoniously provide accommodation and experiences in the most remote of unfenced hinterlands. This isn't a case of throwing up a city hotel or offering a tour along sealed roads. It's taking people out into landscapes that may never have been inhabited by man.  Combining ancestral tribal knowledge with ideas from around the world, the African safari industry has managed to offer comfort and luxury, without any major impact on the environment.
Camps and lodges are erected in the most secluded wilderness, hundreds of miles from any roads or settlements. Tiny planes transport people from national park to national park, the dusty airstrips sometimes having to be cleared of antelope in advance. Deep in the desert there are luxury camps with flowing hot water and private plunge pools overlooking plains of giraffe and buffalo. While notions of simplicity and underdevelopment are often applied to Africa, realizing and organizing such demanding logistics necessitates a professional and developed tourism industry. When such commitment and effort is required to get an operation off the ground, expect an attention to detail that occupies every corner.
Creating seemingly impossible adventures in the wilderness has been the mainstay of safari tourism since its inception. It should, therefore, come as no surprise that local tour operators excel in offering bespoke and customized itineraries. There isn't a standard safari itinerary. For starters, in a continent of choice, there are hundreds of potential safari destinations. Even in the same country or destination, there's always a unique spin or idiosyncratic specialty that helps tour operators and camps provide markers of quality. African safari isn't the best choice for anyone seeking a well-worn march around a set series of attractions.
The Quality of Accommodation
Boutique and eco-lodge are buzz words in the travel industry. In the last few years, there's been a conscious move away from clearly recognizable yet monotone markers of quality. Offering distinction now demands distinctiveness. Boutique hotels and eco-lodges are in fashion. Five-star hotels that look the same in every city are out. Africa has been doing boutique and eco-lodge since long before the terms were coined. Unique styles are stimulated by traditions and history, the local furnishings and colors often wildly exotic to foreign eyes. Transporting materials to the heart of the wilderness is challenging so, by necessity, accommodation has been built using what's locally available and following the longstanding architectural designs that are best suited to a demanding environment. There's ingenuity to African living and it's reflected in the accommodation on offer.
It's sometimes difficult to picture world-leading lodges and five-star quality when it comes under the banner of Africa. It's hard to imagine unrivaled luxury when the setting is the Serengeti or some other big game landscape. Naturally, some amenities aren't provided in the bush. You're unlikely to find a minibar or trouser press in the room. There won't be an electronic swipe card to open the door. Think less about bubble baths and more about en-suite bathrooms with beautiful panoramas across iconic landscapes. Don't worry about closing the windows to minimize traffic noise. On safari, the accommodation ensures that nature's resonant soundtrack always provides an additional coating of charm.
Luxury comes from both the accommodation and its setting. Always expect space and seclusion. In such wide open landscapes, it wouldn't make any sense to be cramped. Camps and lodges are designed to maximize and elevate the submersion in nature; in many cases you only need to open the curtains to watch the wildlife wander past. But wait. Camping?! Tents?! Here are further popular preconceptions that are quickly squashed. While the word camp is disconcerting, it merely reflects accommodation that doesn't provide any permanent damage to the environment. Concrete and glass would look hideously out of place. But wooden flooring, chairs set around a crackling fire, and low-level solar lighting help maintain nature's spell.
While facilities vary by country, it's not required to bring thousands of dollars in cash into Africa. Facilities in Africa have improved drastically in recent years, and it's now possible to pay by Visa and Mastercard, especially in capital cities and at airports. The rollout isn't universal, and you'll still struggle to pay with plastic when you're in the heart of the bush.  Cash can be taken from ATMs, and things can be purchased with credit cards.
Most East and Southern African countries have their own currency, the exception being Zimbabwe (US$).
In Southern Africa, the South African rand is also a de-facto currency in Namibia, Swaziland, and Lesotho. These countries have a local currency that's pegged 1:1 with the South African rand.
In East Africa, the US Dollar is used interchangeably with local currency and is the preferred currency for anything that costs upwards of $40. Currency fluctuations mean tour operators and high-end lodges prefer the dollar and quote their prices in dollars. They still accept local currency and will calculate the price based on the day's current rate. Note that it's very rare to find an ATM that dispenses US Dollars. Therefore, you have the option of bringing dollars, taking out local currency, or paying with credit card.
Exchanging Money
Money exchange is relatively easy across Africa. It can be done at kiosks across the continent, most readily at airports and the towns or cities visited by tourists. Rates can vary dramatically in the same town. Your guide can advise about the places with the best rate and if you're likely to be visiting an area where money exchange isn't possible.
US$ is the easiest currency to change and the most universally accepted. Changing euros and British pounds is also relatively easy. Currency can also be exchanged in banks; this requires you to present your passport.
Traveler's Cheques
Some visitors encounter problems when trying to change traveler's cheques. Most exchange offices do not accept them, and when they do, there's usually an excessive commission. Your tour company can provide more detailed information about the country you are visiting.
ATMs
ATMs are found in towns and cities all across Africa. In some countries they're extremely reliable, notably South Africa. In others, like Malawi and Uganda, the availability is less consistent. Southern Africa has a more developed network of ATMs that accept foreign cards than East Africa.
Not all ATMs will accept foreign cards. However, each country has at least two major banks with ATMs that take international cards. Visa is most widely accepted, followed by Mastercard. It's difficult to find ATMs that take American Express. Many of the ATMs charge a fee that is in addition to any charges from your own bank.
Airports and major cities are the easiest places to find an ATM. Upon arrival, your guide can advise whether you'll need to obtain cash in the city or whether there are options for withdrawing cash elsewhere during your trip. Carrying two different cards is useful as it's sometimes difficult to predict which will be accepted by each bank.
One potential challenge is the size of the highest denomination bill. Even in a country like Tanzania, the highest bill is equivalent to just US$5. So paying at a high-end lodge in local currencies requires the proverbial wheelbarrow of cash.
Paying By Credit Card
Credit cards are now readily accepted across the African continent. South Africa is also moving towards introducing a contactless payment system. Particularly within the high-end tourism industry, establishments are now able to accept credit and debit card payments. This is more universal in Southern Africa and major cities, compared to rural areas and the less-developed countries in East Africa (Uganda and Malawi in particular). Tourism in Africa's five most visited safari countries is a sophisticated and developed industry. Establishments understand that they must provide credit card facilities, so they don't miss out on business. This applies to safari in South Africa, Botswana, Namibia, Tanzania, Kenya. If a place doesn't accept a card, your guide can advise in advance.
Visa is the most readily accepted, followed by Mastercard. Only a small percentage of establishments accept American Express. Establishments usually add-on the commission, anywhere from 3 – 7%.
Showers on an African Safari
Sometimes it's hard to picture. You're heading deep into the bush, a hundred miles from a tarred road or town. There's going to be no running water. You're going to be far from a borehole and just can't imagine how you have a wash. And a shower? In such remote wilderness? Camps and lodges have created ingenious systems that recreate the comforts of home in such desolate environments. You'll be surprised at just how comfortable, and even luxurious this can be.
Showers and water for washing are provided by your safari accommodation. The quality of shower facilities roughly correlates to the price of the accommodation. Boutique high-end camps naturally spend more on their bathrooms and showers than an entry-level lodge. National parks and reserves typically don't provide shower facilities, even at the public campsites. There will be a few taps and sinks at park gates and perhaps picnic places, but the shower situation is arranged by where you stay. Almost all lodges and camps have water tanks, sometimes filled by rain but predominantly supplied by water trucks. An eclectic set of pumping systems is used to get this water to your room. In permanent lodges this is merely an adaptation of traditional plumbing; placing a water tank up high isn't usually a problem when there are solid walls and roof. At mobile camps, there's all manner of contraptions; including staff standing outside the shower and pumping it by hand.
And the water almost always comes out warm. Fires are used to heat the water throughout the day. Lodges might have set times when the water is heated, coinciding with pre and post safari hours. Smaller camps will heat water on request, meaning you always get a warm shower but might need to order it the evening before or wait for someone to get it started. Again, pay more for the accommodation and the water should run at steamy levels. At entry-level lodges, there might be many trying to use a finite hot water supply. On really mobile camping experiences showering might be a little more rudimentary. A bucket of water is heated on the fire; then you use a smaller beaker to pour it over yourself. This bucket shower is the local way to wash and is easy to get used to.
As you might expect, permanent lodges can provide more luxurious showers and bathrooms. These are on more par with what you would find in a hotel, with the high-end lodges offering genuine five-star quality. Camps are smaller and more remote, meaning they have to be a little more practical. But any misgivings you have about the quantity and pressure of water are quickly forgotten when you experience the actual shower room. In many cases, it's a room with a view, mammals roaming outside or the evening's first stars beginning to dominate the open sky above. You're deep within nature, so even the normal tasks for the day come with the odd wildlife surprise. Outdoor showers are also found at lodges and are another slice of inimitability that graces the safari. 
Toilets on an African Safari
Think Africa or any developing destination and many people have lingering doubts around cleanliness and certain amenities. They want to ensure that some parts of the experience remain within their comfort zone, even if the possibility of expanding other boundaries is part of the appeal. One of these is the quality of toilets. While everyone is keen on new experiences, few are looking forward to the preconceived image of a traditional African toilet. It always seems strikingly unfortunate that people could miss out on the safari experience through misgivings about going to the toilet. But the thought of traveling deep into the wilderness doesn't inspire confidence in finding a ceramic Western toilet seat. So here's the really good news: the toilets are far better than you imagine.
Think about it. If people paid all this money for safari and spent a week squatting over holes in the ground, they probably wouldn't return with positive stories, and safari tourism wouldn't be growing at such an impressive rate. Of course, let's not pretend that the typical African toilet resembles the typical toilet in your hometown. For much of the continent's population, the toilet is a hole in the ground. But the tourism industry clearly understands that guests demand something more. And that's not just foreign guests. If a local were to staying at the same lodge or camp, they would also want amenities that reflected the price.
An Abundance of Western Toilets
In general, you should expect Western-style toilets. This applies to tented camps, lodges, and national parks. The scarcity of water and the lack of plumbing means that these toilets might not always be of the traditionally flushing variety. It could be that they drop directly into the ground or must be flushed down using a bucket of water. Almost all tourist focused establishments would have Western-style toilets. In particular, tented camps do an exceptional job at importing Westernized amenities into a very rural untouched landscape. The safari industry understands that toilet quality can be a preoccupation of visitors; it works hard to challenge stereotypes and mindsets.
Squat toilets come high on the list of preconceptions when first timers arrive on the continent, perhaps squeezed between lions on the airport runway and barefooted tribal warriors playing the drums for evening entertainment. Southern Africa is far more developed that most give it credit. Economies are strong, there's a large middle-class community, and the affluence comes with more developed amenities. Kenya and Tanzania also don't reflect the dominant stereotype of impoverished Africa.
Exceptions to Finding Western Toilets
The main exception to finding Western toilet seats is when you're deep in a national park. While toilet blocks are dotted around it could be hours between them. Stop the vehicle. Make sure you're far from the animals. Check around for anything lurking in the grass. Then it's often the case of women behind the truck and men in front. Another exception is that some public campsites in East Africa haven't upgraded their toilet facilities, although these are only encountered on budget camping safaris and some of Africa's iconic mountain treks. On some specialized safaris, it might not be possible to always enjoy a Western toilet seat. Multi-day walking or riding safaris often have a flexible itinerary, with special camps that reflect more traditional notions of camping. This will be indicated in advance by the safari company before booking. However, there's some wonderful innovation on display as holes are dug in the ground and a portable full-sized toilet seat is placed over the top.
Food and drink play a huge role in any vacation. On an African safari, they often find the indelible blend between old-world tradition and modern culinary influence. The sense of wilderness isn't interrupted as you dine beneath the stars, a fire crackling and a hippo grunting nearby. Menus are unique, blending local ingredients – sometimes those you won't find served anywhere else in the world – with an international focus and an inimitable panache. Dining in such remote places means expectations are low. Then they're instantly elevated as culinary delights become a memorable part of the whole African safari experience.
Dining in the Bush
A buffalo herd silhouette graces the horizon as you sit down to dinner, deep in a national park. The table is set beneath the stars, illuminated by kerosine lanterns and the glow of a nearby campfire. Silence. A few echoed calls pierce the air then flicker away into the distance. It feels impossibly remote, the senses constantly alive to the next wildlife clues. Dining in such wild bliss produces low expectations of culinary quality. You're happy to trade gastronomy for location. So when the food is served, there's an initial tinge of shock. As a giraffe saunters past below you're dining on a lavish three-course meal of African-European flavor, with the chef blending local flavors with international techniques. An organic beetroot and onion soup with freshly baked rolls. Now you can choose either fillet steak barbecued over hissing coals or warthog stew. Try both, as well as the kudu casserole and fresh ostrich burgers that are served tomorrow. Dishes keep coming, the fire continues to roar, and nature maintains its diaphanous spell. This is a part of safari that most people don't envisage. With all the lions and elephants to look forward to there's little thought to what you might be eating.
African safari delights in reenergizing old-world charm, recreating the opulent traditions of Europe's first explorers with a relevant modern facade. Lodges and camps pride themselves on their culinary experiences, serving exceptional and unique cuisine in an inimitable setting. Like upmarket hotels around the world, there's a dedicated focus on dining and its role in your overall experience. Safari accommodation is generally inclusive of meals, giving the quality of food and ambiance of dining a more visible role in the general perception of a camp or lodge.
The Dining Room
Dining rooms are often beneath the stars or in open-sided rooms that don't interrupt the panoramas. Where possible, safari is about dining outside; it's only really cold weather that forces it indoors. Dining rooms inside are normally wood-paneled, tables set around a crackling log fire and an atmosphere of tradition. At mobile camps, they are often a large tent, open to the panorama, decorated with the touches of a luxury hotel. There's often a chance for customization as well. Romantic tables can be erected far from the camp, perhaps within a forest or on open plains that roll beneath the moonlight. The emphasis is always on continuing the impression of being out in the wild. Regardless of where you are on safari, expect the dining area open and spacious, the fire an omnipresent feature, and a wild soundtrack flittering through the evening. Lighting is low, not deliberately moody but more fitting with the environment; think kerosine lanterns, candles, soft solar-powered bulbs, moonlight.
The Menu
African gastronomy is heavily influenced by local ingredients. The rest of the world would call it organic and ecologically friendly, but it's just the way it's always been in Africa. For many centuries, locals have perfected a cuisine that's based on just a small handful of local ingredients. This varies dramatically across the continent with many tribes having a traditional staple based on the fertility of their land. While this staple isn't always particularly inspiring, the concept of remaining local and organic continues today and on safari. But rather than being restricted to what's available in a village, chefs source ingredients from across a country, crafting a menu that delves into many distinct specialties. The result is often a fusion, a menu that feels and tastes indelibly African, yet wouldn't all be served together in a home or local restaurant. While local flavors and delicacies are the mainstays, innovation and ingenuity abound, chefs merging local flavors with international styles for foreign palates.
In Southern Africa, unusual and rare game meat is always a highlight; springbok, kudu, ostrich, warthog, impala, crocodile, and other new tastes to try. East Africa's meat is also locally sourced, although it's more similar to home; beef, lamb, chicken, and the surprising tenderness of goat. Expect lots of local fruit, usually far tastier and juicier than those that are transported halfway across the world by boat. A range of freshly pressed fruit juices is another regular highlights. There's a variety of vegetables and spices dictated by season, along with the odd imported culinary idea; for example, fried bacon for breakfast. Traditional cooking methods work best out in the wilderness, and many parts of a meal will be cooked on a wood fire, giving the meat a distinct taste and creating classic African dishes like potjie – a thick meat and vegetable stew, simmering in a cast iron pot that placed directly on the coals.
Most camps have a fixed menu for each meal. There is likely to be a couple of choices but in general, these small kitchens would struggle to provide a large a la carte menu; the most exclusive upmarket camps and lodges may have a wider menu. These menus change daily, and you're unlikely to encounter the same dinner dishes twice. Cold and hot options are available for breakfast. Both lunch and dinner are usually three courses. Camps and lodges always have their own unique creations, so there's no standard safari dish to encounter, other than the packed lunch that is taken on long game drives and the warming soup to start a meal. Lodges tend to cater for more guests than camps. They may serve an a la carte menu or a buffet.
Most Safaris Include Meals
The vast majority of safaris are inclusive of all meals. This includes three meals a day plus a selection of snacks. Except large portions. African tradition dictates that the quality of a meal is judged primarily by whether you're full. In Swahili, saying I'm full and satisfied is as much a compliment as telling the chef you enjoyed the taste of food. This isn't a continent where you'll find dainty French-inspired dishes that consist of one or two mouthfuls. The thought of a guest being hungry is abominable. Meals are intentionally large and rather than requesting more, many visitors are asking to be served a little less.
On a typical safari day, breakfast is served at the time you request, normally early in the morning to accommodate a safari in the cool part of the day. Dependent on the length of the safari activity,  breakfast could also be a quick drink and toast before a more filling breakfast when you return or even out on a game drive. Fresh tea and coffee come with breakfast, although it's rarely as energizing as the sight of wild mammals roaming against an expanding sunrise.
Lunch is either served at your accommodation or packed up and enjoyed while on safari. Over a multi-day safari, there's likely to be a mix of these two options. Especially on game drives in large national parks, eating lunch at a picnic spot allows you to explore a far greater area that having to return to camp – just watch out for any mischievous monkeys and baboons. These tend to be produced by the lodge based on a regular menu; including sandwich, chicken leg, hard-boiled egg, fresh fruit, chocolate, cake, and a few little treats. On other days, the safari viewing will be split over morning and afternoon activities, with time to rest at camp and enjoy a languid lunch during the hottest part of the day. It is likely to be three courses that are served at a time you requested. Some high-end companies are also able to offer a sublime a la carte lunch in a national park; the guide takes you to a pre-agreed dining area where a chef is serving up hot food. It allows guests to spend the whole day out on safari without having to take a cold packed lunch.
Many camps and lodges serve snacks and drinks in the late-afternoon, a prelude, and accompaniment to sitting on a balcony and watching the wildlife wander past. Guides might also take a selection of drinks and snacks out on safari, helping to reenergize during the day. Like a quick canapé and fresh juice when you're besides a lake of hippos. Private reserves regularly provide this experience, sometimes with wine and champagne poured when you're in the heart of nowhere. Dinner is served in the early-evening.
Budget safaris using public campsites are very different. Generally, all the food is cooked by your guide, and the little culinary touches aren't included. The quality is significantly lower with meals based around easy to obtain staples. Think big portions of carb-heavy meals; pasta, maize meal, potatoes, rice. Food normally comes from the town and travels with you in the safari vehicle, before it's cooked on small gas stoves.
Drinks on your African Safari
There's always a pristine moment of calm as you lounge on a terrace after a full day safari. The body's a little tired although the mind still races, piecing together the day's scenes, memories suddenly jumping around as you recollect something you saw at sunrise. Drinks are served; cold beer, imported wine, coffee from local plantations, a chilled coke to counter the day's heat. Ahh, that first sip, that confirmation of repose and relaxation. Oh, and a pair of waterbuck are grazing a few meters away, warthog tails run across the vicinity, and every so often an elephant plods past without pause. Like the food on offer, it's not just what you're drinking, but where you're drinking it.
The choice of drinks on offer is usually reflective of the style of the camp or lodge. More upmarket establishments naturally have a wider drinks menu with more imported spirits, beer, and wine. Some high-end accommodation is also inclusive of drinks, and this will be indicated in advance on your safari itinerary. This varies between upmarket camps, but fully all-inclusive accommodation encompasses soft drinks, beer, and good but not premium spirits. Other accommodation will have drinks for sale. Most accommodation also includes non-alcoholic drinks to accompany your meal. Staff will let you know what is included when you check in. Tea and coffee are usually included and served at your request. Particularly in East Africa, locally sourced leaves and beans make for a very aromatic morning brew.
Perhaps the ubiquitous African drink is not the iconically brewed maize beer, but Coca-cola. You'll see their bright red slogan adorning village house walls, schools, and huge swathes of towns and cities. A cold glass bottle of coke is always on the menu. As is a chilled bottle of beer. Each country has their own small selection of local brews, which tend to be enjoyable if a little on the gassy side. Perhaps only Namibia's Windhoek or Mozambique's Laurentina Preta gets beer connoisseurs excited, although South Africa is benefiting from a recent surge in microbrews.
South Africa has an internationally-renowned wine industry and the best of the Winelands region is served and celebrated at South African camps and lodges. Spending a few days sampling your way through the plus 500 vineyards is a popular addition to South Africa or as a side trip from Cape Town. While colonialists attempted to cultivate wine all across the continent they never quite succeeded. So for safari elsewhere in Africa the wine is imported, usually from South Africa. Again, the range and quality on offer are usually reflective of the camp or lodge's cost.
Africa isn't especially known for inventive alcoholic drinks. The most popular spirits are cheap and fairly horrendous concoctions made from cane sugar, something reserved for those seeking a morning hangover disproportionally worse than how drunk they were. There are a few exceptions. Amarula is a liqueur made with cream and the marula tree fruit, tasting a little like Baileys with a mysterious additional tang. South Africa brews its own cider – Savannah and Hunters Dry – which will be found across all of Southern Africa. And then there's the traditional maize beer, a fizzy sour brew that's homemade in villages across the continent. Huge barrels and tankards are served at local events – ceremonies, marriages, funerals – with the alcoholic content blissfully unknown. Few visitors enjoy the unusual taste, but most are willing to try should the opportunity arise.
Drinking Water in Africa
South African tap water is safe to drink. Officially, the tap water of Botswana and Namibia is safe to drink. A few with precarious stomachs might not agree, especially with the water from boreholes in very rural areas. Tap water is not safe to drink in East Africa.
Bottled drinking water is included as standard on almost every safari, the exception being some safaris in South Africa where tap water is more than adequate. Safari companies should provide this bottled water, usually without reservation on multi-day safaris. Many vehicles are equipped with fridges, so the water remains chilled through the day. Note that on some budget safaris, there may be a specified limit, like two bottles per person per day. When it's not included, bottled water can be purchased at camps and lodges.
Types of African Safaris and Activities
While a game drive is a classic way to explore, a range of distinct activities elevates the African safari experience. Individual parks and reserves have their distinct specialties, tailoring the safari experience to activities that best showcase the landscape and its wildlife. Consider learning more about the various types of African safaris and activities, such as nighttime game drives, walking safaris, horse riding safaris, and more. 
African Safari Accommodation Types
Wake each morning and there's something saying hello, from distant herds already on the move to evocative evidence of an elusive sight. Open rooms beneath the stars, tree houses perched above a waterhole, a bed for the night on a shimmering salt pan... a multiplicity of unique and wonderful options provide indelible highlights and continual memoirs to the beauty of African Safari. Consider learning more about the different types of African safari accommodations, from game lodges to luxury tented camps. 
Getting Around on an African Safari
Journeys are a huge part of the African experience, elevated from functionality to memorable parts of a vacation. Africa is always an adventure, epitomizing the popular mantra that travel is as much about the journey as the destination. Consider learning more about the various means of transportations and getting around on an African safari. 
African Safari Guides, Trackers, and Rangers
Guides provide your wilderness translation, expertly taking you to the best sights and then chronicling the stories of the visual beauty. Trackers and rangers assist in their quiet and discreet way, working mostly behind the scenes to enhance the experience. Consider learning more about the ones who will help define your African safari experience to be an exceptional one: the African safari guides, trackers, and rangers. 
When to Visit Africa for Safari
There is no singular best time for an African safari. Each country and park are preferred in different months by different appeal, with the distinct wet and dry seasons creating alternate experiences. However, it is still worth considering learning about the distinct seasons to maximize your dream experience. Consider learning more about when to visit Africa for Safari.
What to Pack for an African Safari
Many vacation destinations are easy to pack for, but packing for a continent and experience you know little about can be daunting. Are there certain colors that attract lions? What footwear are you supposed to wear? Consider learning more about what to pack for your African safari packing list.
African Safari Destination Types
National park, private concession, game reserve? Why is a national park a national park? Is the safari different if you're in a private concession? The repertoire of terms can be baffling, yet they do offer different experiences. Consider learning more about the various African safari destination types. 
Different Landscapes and Habitats of Africa
The inherent idiosyncrasy of safari is fueled initially by the diversity of Africa's landscapes and habitats. Arrive in Africa and each distinct habitats cascades its own impressions, canvases of eclectic spectacles extending in a variety of directions. Consider learning more about the different landscapes and habitats of Africa, from savannahs to tropical forests and semi-deserts to wetlands. 
The Big Five
Lauded as the essential sights of an African safari, the big five consist of the lion, elephant, rhino, leopard, and buffalo. Consider learning more about the history and significance of the Big Five of African safari. 
Top Destinations for Safari & Leisure Travel in Africa
Every country offers its signature and premier safari experience, with some countries going above and beyond to provide a truly memorable experience of a lifetime. Consider learning more about the top destinations for safari and leisure travel in Africa, and discover which countries offer truly exceptional adventures. 
More to Africa Travel than Safari
African adventures don't start and end solely with safari. A continent of color and charm awaits every footstep, a fresh scene appearing with every turn in the road or flight across the savannah. Others can take center stage, towering wonders that reveal that there's far more to Africa than safari. Consider learning about the experiences outside of the Safari: the cities, beaches, tribal experiences, natural wonders, and much, much more. 
African Safari Animals & Wildlife
From zebra or kudu standing like sentinels on the open savannah to dik-diks that hide behind broad acacia trunks; from a lion mane flowing in the sunset breeze to a mongoose scurrying from an underground burrow. Elephants, rhino, hippo, giraffe... there's a continual reel of the large and famous, but never discount the remarkable diversity of Africa's wildlife. Consider learning more about the broad spectrum of African safari animals and wildlife, from the predators and iconic large mammals to the ungulates and antelopes. 
Reviews of Zicasso's Referral Service
Reviews on Zicasso are all from real travelers who used our service, booked a trip, and traveled.
4.75 stars based on 12 reviews