Custom South Africa Safari
Describe your dream South African safari
We match you with up to 3 top South Africa safari tour companies. They compete to plan your trip
Book the itinerary when it's perfect
South Africa's bounty is plenty. From the coastal cities that beam with excellence to the evocative landscapes that host spectacular wildlife, a South Africa safari from Zicasso will lead you to some of the Earth's most remote natural reserves, where you will experience incredible wildlife encounters coupled with premier luxuries. Design yours today.
SOUTH AFRICA
INTRODUCTION
UNIQUE EXPERIENCES
WEATHER AND WHEN TO GO
WHERE TO STAY
BEFORE YOU GO
HEALTH AND SAFETY
CUSTOMS AND ETIQUETTE
South Africa invariably wows visitors with its unique mix of improbable juxtapositions and beautiful contradictions. It starts with Nature's beguiling spell. Stark mountain chains rise vertically from whale-ruled oceans; deserts and tropical rainforests are separated by slivers of rolling farmland; giant elephant herds wander through savanna that overlooks warm Indian Ocean rollers. South Africans themselves provide a marvelous celebration of individuality. This is a country with 11 official languages and a national anthem sung in four mother tongues. Meeting the locals is integral to the experience and it's impossible not to be buoyed by their boundless resilience and laughter. Even the lion prides and rhinos seem to share this irrepressible enthusiasm.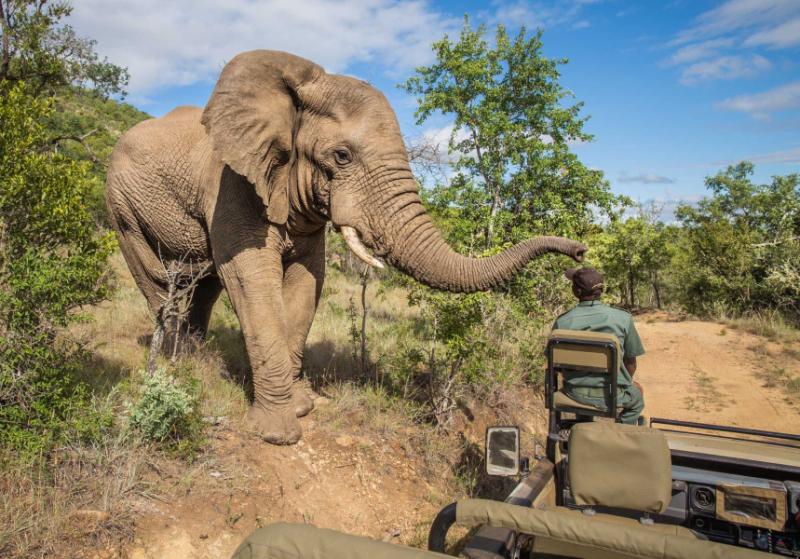 Photo: Game viewers getting face-to-face with a giant on a game drive in Kruger National Park
At the same time, South Africa is shaped by a remarkable unity, a collective identity that leaves an indelible mark on all who visit. From the moment you step off the plane, you know you're in the 'Rainbow Nation'. Friendly welcomes are unanimous and universal, regardless of the language. The diverse geography provides endless magic: from the hippo-infested swamps of the Limpopo, to the soaring snowcapped peaks of the Drakensburg, and dozens of sun-drenched beaches tucked away on the country's 2000-mile coastline. Even its cities can harmoniously package everything together – epitomized by Cape Town, one of the most singularly spectacular destinations on the planet.
Explore the Garden Route, a bewitching stretch of coastline that offers never-ending changes of scenery and perpetual surprises. Mystical forests tower over serene beaches, the Big Five roam in private reserves, arid desert is flanked by towering mountains, and coastal heathlands are dominated by the vibrantly-hued fynbos that constitute the smallest and richest of the world's floral kingdoms. The Garden Route is South Africa in a nutshell, an enchanting journey through ever-changing landscapes, which is always relaxed and benevolently easygoing.

South Africa's rugged coastline is a clash of styles: brutal Atlantic waves merging with warm, unruffled Indian Ocean waters. Transcending the competing currents is a collection of the world's largest marine animals. Three different whale species can be found breaching just meters from the Hermanus Cliffs; you can go on a boat trip to see the magnificent southern right whales at breathtakingly close range. Whale sharks – the peaceful plankton-eaters that grow up to 12 meters long – roam the waters near St Lucia, while formidable great white sharks can be seen from an underwater cage in Gansbaai. Fortunately the sharks aren't everywhere, and safely dotted around the 2000-mile coastline are numerous famous surfing spots.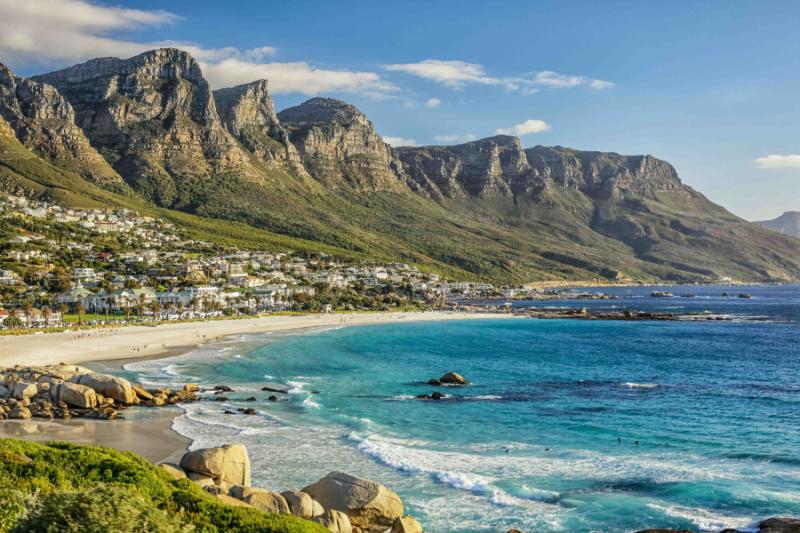 Photo: The stunning Cape Town coastline
Take a day trip down the Cape Peninsula, meandering along cliffside roads that often defy engineering. Stop to sunbathe on fine white beaches, swim with the fearless penguins at Boulders Beach, have a meal in a quaint fishing village, and admire the stunning views over the South Atlantic from a succession of lookouts. Your final destination is the very southwestern tip of Africa: a jagged range of rock, sand, and a fairytale lighthouse. Set sail from here and the next stop would be Antarctica. Just think about that for a moment.

In South Africa there is no defined itinerary, no standard collection of attractions or 'must-dos'.  Beach, city or safari? Exploring, relaxing or going on an adventure? Wine, wildlife or wonderful culture? In many ways, South Africa epitomizes the Zicasso experience. Here is a country with so much to offer it can be mind-boggling just thinking where to start. Tailoring an itinerary to your personal interests is clearly the best way to go. So let our handpicked travel specialists indulge your imagination – and craft your perfect South African vacation.
Every trip to South Africa comes with a generous layer of surprise and a daily dose of distinctive experiences. Here are just a few to whet your appetite:
Have your senses awoken on a trip through the expressive and exquisitely beautiful Cape Winelands. Just an hour's drive from Cape Town are the historic towns of Stellenbosch and Paarl, where some of the world's most famous wine estates have been producing their award-winning shiraz, sauvignon blanc and chardonnay varietals since the 18th century. Scattered among these lush valleys are a host of other gourmet delights: from the celebrated restaurants of the Franschhoek Valley, to prizewinning 'cheeseries', chocolate-makers and olive farms – all producing perfect accompaniments to the region's legendary wines!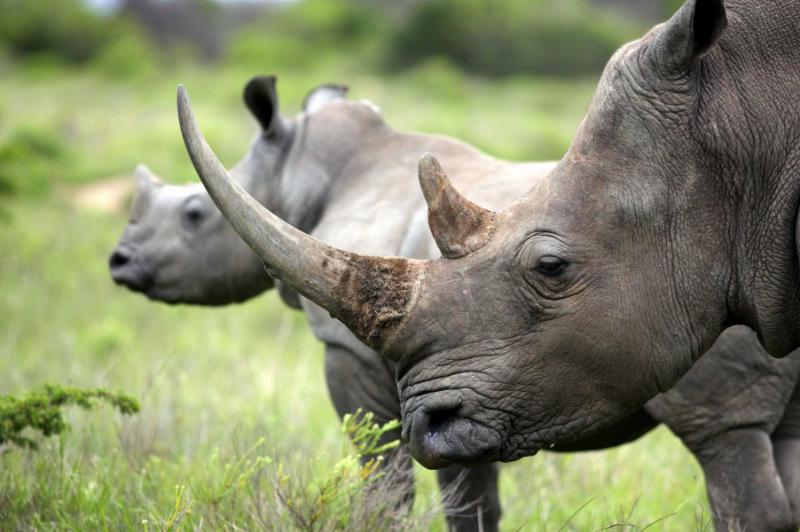 Photo: Kruger National Park
White rhinos cover Kruger National Park, blissfully roaming around the last of their great natural strongholds. Young bulls plod past your lodge balcony, mating couples emerge from behind trees, and endearing babies eye everything with quaint suspicion. They seem huge and imposing from your safari truck. But you can get much closer on a soul-stirring walking safari. You'll witness this endangered mammal from ground level, an experience that leaves long personal impressions of power, beauty and humility.

Vilakazi Street has a special claim to fame. Nestled in the sprawling township of Soweto, beside colorful houses and vivid murals, this is the only street in the world that has been home to two Nobel Prize winners. Soweto is the world's second largest slum and it was integral to the fight against apartheid. It's perfectly safe to visit and the attractions paint a poignant historical tale, including the homes of Nelson Mandela and Archbishop Desmond Tutu, the apartheid museum, and places that recount the 1976 Soweto uprising. Ever-friendly locals add charisma, and there's never a shortage of welcoming smiles.
It will come as no surprise to learn that South Africa's weather is also remarkably diverse. In the north you'll find stark desert conditions and dramatic variations in temperature – except when you're on the tropical coastline. Remarkably, in the south of the country, the Garden Route is officially one the world's most temperate climates. South Africa is a year-round destination, with the weather rarely becoming uncomfortable or challenging. But whatever time you visit, remember to bring your high-factor sunscreen. South Africa has an exceptional number of sunny days and the depleted southern hemisphere ozone layer can be unforgiving.
Peak tourist season runs from Christmas to the end of January, primarily because it's the South African summer holidays. Outside this period there is no easy distinction between high and low season. With so much on offer, it's rare to visit anywhere that feels over-populated with tourists. Furthermore, the diverse climate means that different destinations are more popular at different times of the year.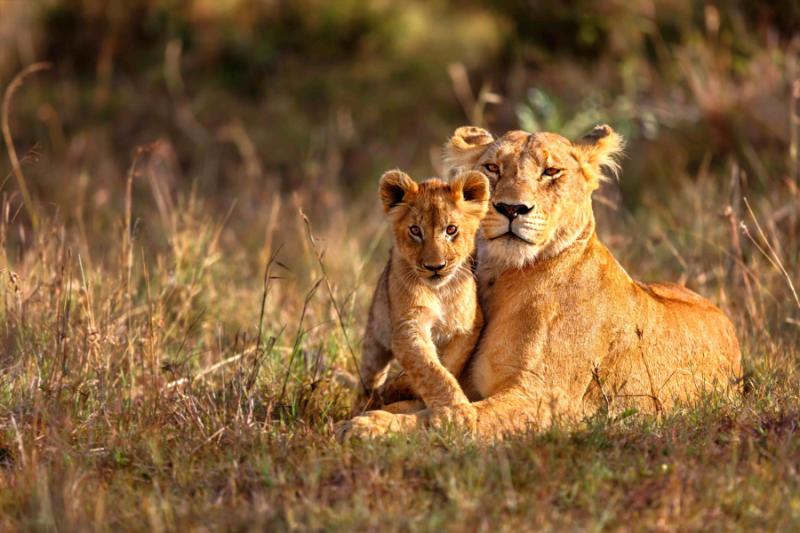 Photo: Mommy lion looking after her cub, Kruger National Park
In general, the northern and central parts of the country have a typically African climate. Long summers run from November to April and are invariably warm, with temperatures occasionally hitting 90 degrees in Kruger, the arid northern desert areas, and the eastern coastline. Thunderstorms fill the rivers and turn the landscape green, although they occur randomly and certainly not every day. A cooler and drier winter follows from May to October. Note that the central plateau is at an altitude of over 3000 feet, meaning temperatures are always 10-15 degrees cooler. During winter you'll need a coat at night, but daytime temperatures tend to hover pleasantly in the 60s.
Cape Town and the south has more of a Mediterranean climate, with long warm summers and short unpredictable winters. Visit Cape Town in July and you could be basking beneath 70-degree sunshine. Then the next day might be cold and wet. Visit during the summer and the weather is tailor-made for visitors: sunshine, low humidity, clear skies. A brisk breeze whips around the Cape Peninsula, ensuring pleasant temperatures through the height of summer. Spring and fall do exist in South Africa, but the unpredictability of the weather makes these seasons hard to define.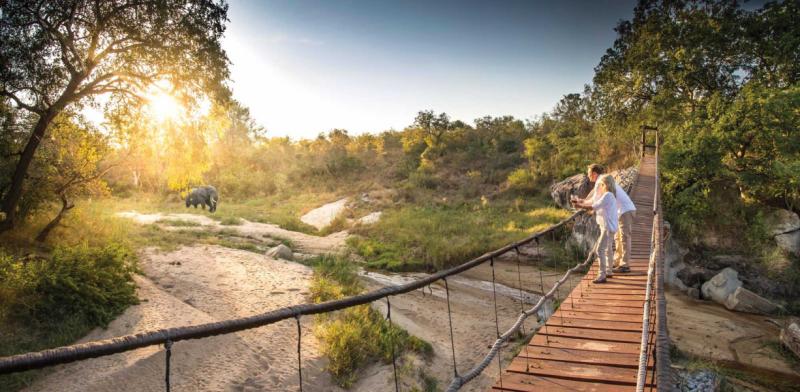 Photo: Travelers enjoying the wildlife and a beautiful sunset view
South Africa's eclectic accommodation is designed to capture the essence of each destination – invariably elevating the visitor's experience. Hotels in Cape Town are plush and luxurious, with interiors reflecting colonial grandeur, and views that encompass mountain and ocean. You'll find some of the world's finest hotels here. They don't rise high or try to conform, but are usually opulently delivered and cleverly constructed to make the most of their surroundings.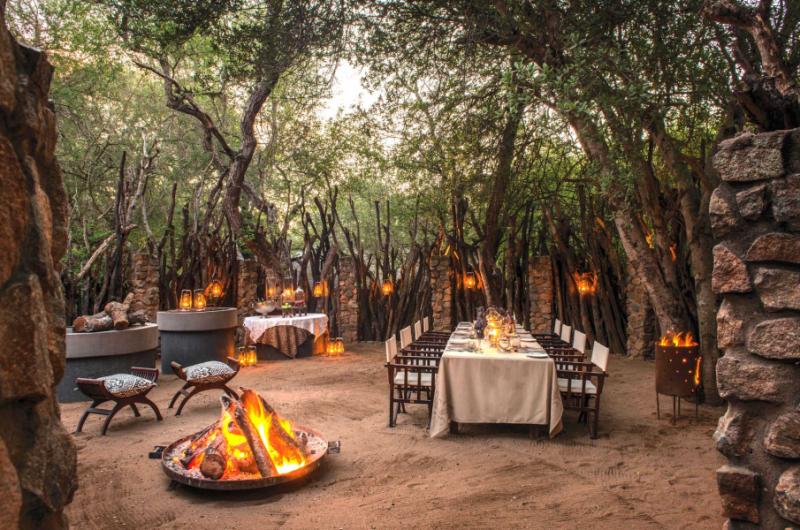 Photo: Many Luxury safari lodges offer an unforgettable experience, a unique blend of comfort and style
Across the country you'll find accommodation that exudes both personality and a personal touch. Many places cater for a limited number of guests, ensuring a charm that's synonymous with South Africa. Boutique lodges and converted farmhouses are tucked away within immense landscapes, offering style and a home-away-from-home feel. Accommodation within the national parks is perfectly appointed, combining immersion in nature with stunning luxury. Think of raised bungalows with floor-to-ceiling windows overlooking waterholes in the Kruger. Wherever you go, expect plenty of space, mesmerizing views, and an achingly authentic experience.
Visa and Passport Requirements
American, Canadian and EU passport holders are given a visa-free 90 day stay in South Africa. Your passport will be stamped on arrival at any international airport or land border crossing. Officially, you must have proof of your return or onward travel. In most places this rule is sporadically enforced, although customs officials at Cape Town International Airport are notorious for requesting your documents. Having a printout of your travel itinerary and confirmed return flight is sufficient.
South Africa suffers from a very negative, though largely unwarranted image about crime. It's a reputation that's been spun from limited facts and a handful of internationally profiled cases. Furthermore, the general tendency to view Africa as a single entity fails to appreciate that South Africa is a well-developed major economic power. In general, South Africa is not a dangerous country to visit. Most South Africans are keenly aware that even a small incident involving visitors can have serious implications for their country, and any crime against tourists is taken extremely seriously.
Like almost anywhere in the world, there are isolated areas with high levels of crime. These are generally out-of-the-way townships and settlements which would never be on a visitor's itinerary. Their location means it's virtually impossible to accidentally take a wrong turn and stumble into them. In major cities it is important to remember the usual precautions, like not wearing external money belts or flashy jewelry, or walking on unlit streets after dark. It's impossible to provide a single set of rules for the whole country, as every destination is very different. But your hotel or guide will advise if there are any areas to avoid after dark, or localized issues that must be considered.
The majority of South Africa is malaria free. The exceptions are Kruger National Park and the Limpopo Province during summer. Malaria-carrying mosquitos are dormant at the end of the dry season between July and October. At all other times of year you will need to take precautionary anti-malarial medication. Compared to the rest of the continent, South Africa is a very healthy country. With the exception of hepatitis A, you won't need to take a course of vaccinations before traveling here.
Private medical facilities in South Africa are of an excellent standard and are on par with Europe and the US. After all, the world's first ever heart transplant was performed here. However, private healthcare is not cheap so make sure your travel insurance is up to date. Tap water is usually safe to drink and the risk of diarrhea is low in most of the country, with the exception of some rural northern areas. Bottled water is readily available.
The outgoing sociability of South Africans can come as a surprise when you first arrive from the West. In many situations, greeting a stranger is customary and indicates that a person has nothing to hide. Not making eye contact or saying hello to a stranger can sometimes be considered rude. The general openness of the people is always evident and daily interaction with locals is part of the South African experience. But with 11 official languages, how do you say hello? That's easy. Almost all of the population is bilingual and English is universally spoken. Learning to say "molo" (Xhosa) or "sawubona" (Zulu) will endear you further.
Meeting a colorful collection of locals is almost unavoidable. This could be enigmatic safari guides, hotel staff with humorous stories to share, the Capetonian stood beside you on Table Mountain, or a stranger in a restaurant. People often like to share tales and it's always interesting to hear their (often erroneous) preconceptions of your homeland.
Tipping is generally expected and many restaurant and bar staff will not receive a basic wage. It's also consistent with the generous nature of South Africans, who invariably live by the mantra of sharing what they have. While South Africa is often considered a first-world country, the salaries of hotel staff and guides don't come anywhere close to those of Europe or the US. There aren't set guidelines on how much to tip. Anything is appreciated, and relatively small amounts can make a big difference.
Visa and Mastercard facilities are available throughout the country, especially in establishments that cater for tourists. ATMs are also ubiquitous and almost all will accept Visa and Mastercard. South African rand is the local currency and currency exchange is available in all cities and major hotels.
When on safari remember that you're not in a zoo. There are rules about what you can and cannot do. These aren't laborious or restrictive and will generally vary according to your destination.
Reviews of Zicasso's Referral Service
Reviews on Zicasso are all from real travelers who used our service, booked a trip, and traveled.