Custom Hungary Tours
Describe your dream trip with luxury vacation package and/or adventure tour.
We match you with up to 3 top travel specialists (travel agencies). They compete to plan your trip and tour.
Book the trip when you are satisfied.
Step into the fairytale world of Hungary where castles and rivers are as majestic as caves and hillsides. You will forever feel as though you have stepped into a majestic blend of traditional villages and modern cities where festivals reign throughout the year, riverbanks blossom, and cobblestone paths and serene countryside are never far away.
There is only space for the exceptional on this 17-day journey through the highlights of Central Europe. There is majesty in the medieval stone bridges that link Prague's shores,...
Read more...
This is a customizable tour. It's simply a starting point for inspiration and ideas. Each trip is personalized uniquely for you, based on what you want, for your private travel.
Bask in the old beauty of Europe as you travel from Bohemia to the Adriatic. Explore Prague and Budapest, both exquisite capitals draped around a river and then move to Zagreb and...
Read more...
This is a customizable tour. It's simply a starting point for inspiration and ideas. Each trip is personalized uniquely for you, based on what you want, for your private travel.
More than 30 statues border the cobblestone walkway of the Charles Bridge. Look back at Old Town and see the spires of historic buildings towering over the streets. The...
Read more...
This is a customizable tour. It's simply a starting point for inspiration and ideas. Each trip is personalized uniquely for you, based on what you want, for your private travel.
Introduction
Budapest
Hungary by Region
Unique Experiences
Weather and When to Go
Where to Stay
Before You Go
Health and Safety
Customs and Etiquette
Hungary Tours: The Zicasso Way
Fisherman's Bastion, Hungary.
Romantic castles hide in the forest. Folk culture enlivens medieval towns. Glamor and grandeur line up along the River Danube. Welcome to Hungary, an artistic canvas of the old and new, where every turn you make is another beautiful brushstroke. You can be deep in culture and history, and then out along rivers and valleys in the same day. One day you cruise down the Danube, the next you are galloping across rolling plains. There are historic towns to escape the world, cave baths and spas to re-energize, then castles and churches that rewrite history. Welcome to Hungary, one of Europe's great destinations.
This large country comes with a welcoming paradox. There is exotic allure from palaces draped over the Danube and old-world towns distinct in atmosphere. The infrastructure is highly developed and Western in style. Travel is incredibly straightforward here, whether it is a short stay in Budapest or two weeks getting to know the country's corners. There is always a superb choice of hotels along with contrasting ways to get around. The people are friendly and you can get by without knowing the language. Whether you stay for two days or two weeks, it is easy to see how Hungary is now in the worlds top 20 visited countries.
Chain Bridge, Budapest, Hungary.
As with so much of Europe, the capital city, Budapest, has a magnetic pull yet is far from the only destination. Explore Buda's historic grandeur, and then cross the river to Pest, where vibrant and quirky experiences complement an imperial past. Castles and palaces line the river in both directions; traveling westwards you can continue to Bratislava and Vienna, or cruise southwards through Kalocsa and Mohacs into the Balkans. Relax around Europe's largest lake, wine taste along the shore and discover local life. Uncover the mysteries of Hungary's old towns in Northern Hungary then get a dose of the wilderness by traversing the Great Hungarian Plain.
Hungary is one of those countries where visitors often wish for more time. While the postcard sights are plentiful, there is a feeling of adventure as you look beyond the initial facade. Try plum brandy tasting in an art nouveau cafe, visit boutique guesthouses in a baroque city, and walk through a red-leafed forest to an almost mythical castle. Relax in a cave bath, wander along medieval cobbles, hike in the Carpathian Mountains, and drift along the river.
Hungary tends to be visited on a multi-country itinerary, usually incorporating Budapest and other grand European cities. It is the start or end point for an Eastern European cruise, or a destination to pass through when connecting west with the east. The challenge when planning a European vacation is that there is so much to take in, it becomes difficult to look beyond iconic and venerated highlights. Travel to Hungary, and you can peel away dozens of layers, discover hundreds of stories, and come to understand the grand juxtapositions that Central Europe is based upon.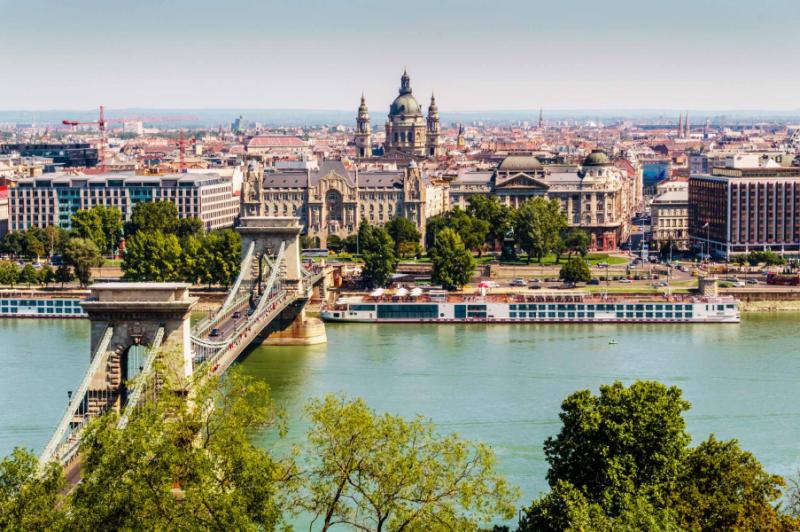 View of Szechenyi Chain Bridge Budapest, Hungary.
Budapest is filled with adventure around every corner. You will walk down broad boulevards of 19th-century townhouses, baroque and neoclassical contradictions blurring together. You will discover WWII bullet holes and gritty communist blocks, then turn a corner to art nouveau excess. In a medieval-themed restaurant, you dine on goulash and roasted pork; at a flamboyant café, you sip on coffee as footsteps echo from a nearby castle.
Even the most understated of hot springs drip with grandeur. Majestic architecture seems to follow you along every street. The most iconic monuments are unmissable, mostly due to their size: medieval castles, imposing parliament, the royal palace, old market hall and the opera house. You could spend a month here and not get to see everything. The sights range from neogothic churches, Europe's largest synagogue, and monuments to many periods of history. Then cycle along the Danube, walk the art deco neighborhoods, lounge in one of the parks and discover a superb assortment of museums.
Dividing it all into two is the River Danube. Buda, to the west, is where you find Castle Hill and Buda Palace rising along steep banks. It is old, grand, glorious and alive along with a labyrinth of cobbled streets. The history of Pest is shorter, and it is here you explore decorous 19th-century architecture, a winding Jewish district, and an energetic area of hip bars and cafes. When you need to stop and relax, Budapest is famous for its abundance of hot springs, which have been around since the Romans.
Transdanubia (Western Hungary)
Visit Kaposvár located in Transdanubia.
Western Hungary has a history as unorthodox as its name. The local Magyars came down from the Carpathian Mountains, taking over land settled by the Romans. Serbs and Slovaks had their time in power while the Ottomans and Hapsburg have left much behind in the towns and cities. Sopron is a great example, where Roman ruins and walls skirt a medieval maze and a Baroque central square that hums with energy on warm summer evenings. A splendid Ottoman mosque still calls people to prayer in Pecs, harmonic sounds ringing out towards vineyards, synagogues, a palatial cathedral and excavated Roman remains.
These two historical towns are ideal for architecture and discovery. Dotted across Transdanubia, you also find stately castle hotels, and thermal spa towns like Mosonmagyaróvár, and Esztergom, the first capital city. The premier tourist attraction is Europe's largest lake, especially in summer. Cute villages cling to the northern shore of Lake Balaton and are recommended over the loud resorts around Siofok. It is wine region on the volcanic landscapes of the north, so cycle out to the vineyards and indulge in the lakeside serenity.
Northern Hungary
Eger is a must see destination in Northern Hungary.
Eger is the iconic destination for those who combine Budapest with one other Hungarian stop. Framed by forested hills and at the heart of Hungary's best red wine country, the welcoming town celebrates eclectic history. Minarets rise, thermal baths tempt, and the Gothic castle is as grand as any in Eastern Europe. The red wine is strong, given the name Bull's Blood through an old Ottoman legend. Small cellars dot the streets, alongside the superb mix of architecture that everyone visiting Hungary comes to expect.
Look a little further in Northern Hungary, and you will probably be the only tourist around. Traditional villages and cave baths are the unique attractions, along with the World Heritage cave system of Aggtelek. The tour bus groups visit Eger on a day trip from Budapest. Savvy travelers on private tours can explore Northern Hungary during the day, then spend the evening and next morning in Eger, away from other visitors.
Great Hungarian Plain
Traditional horsemenorss in the Great Hungarian Plain.
Horses still gallop across the Great Hungarian Plain, part of Magyar tradition that remains alive in this rural part of the country. Open grasslands extend here, punctuated by the Danube and Tisza rivers. It is where you visit to get out into nature, especially if you like to ride horses. Although this region covers half the country, there are not many people living here. It is mostly small villages and the odd early 20th-century town, making for quiet stops when you travel through on a cruise. This is a beautiful region and with two days cruising you will discover a rural side to complement Hungary's buzzing capital.
River Danube Cruising
Follow the Danube River through Hungary.
The Danube once divided, but it is now the heart of Budapest. Hungary's capital is often the heart of an Eastern European cruise. With two weeks you can travel in different directions. Follow the Danube down from Vienna and Bratislava to Budapest. Cruise south and east through Hungary towards Belgrade, Bucharest, and the Black Sea. Start in Budapest, and follow different rivers westward, into Austria then onto the Main and Rhine through Germany and eventually Amsterdam. These luxury cruises connect Europe's great cities, and Hungary is often the most memorable highlight.
Hungarian Wine Tasting
Wine tasting in Hungary entails trying old varietals rarely sold outside Hungary.
France, Spain, Italy...and Hungary? In the revered list of European wine countries, Hungary does not get the recognition it deserves. Vineyards were introduced during Roman times, although it was Magyar warrior and national icon Arpad that carpeted the land with grapes. That was in the ninth century, and successive civilizations have brought new cultivars to volcanic soils. For wine lovers, it is a chance to taste old-world varietals rarely seen outside Hungary, such as the sweet dessert Ezerjó, dry white Hárslevelu, and the famous Bull's Blood that is based on Kekfrankos.
Navigating Budapest's Maze
Pictured above is Budapest's chain bridge.
At first it is easy to orientate yourself in Budapest. Essentially you have two cities divided by a river. Cobbled lanes snake uphill while grand boulevards lead to leafy parks. Contradictions line every vista, from the architectural juxtapositions to the mix of communist grit and charming old-world splendor. Everywhere you go you pass somewhere that you want to remember for a later day on the vacation. Every journey you take makes the city more complicated, eclectic history balanced with modern-day styles and the hip face of Hungary. Spend two days and you may think you have seen it all. But spend a week and you will know that it is impossible to see all of Budapest. So take a private guide and take your time, for Hungary's most unique experience is immersing yourself in the capital.
Staying Overnight in Historic Towns
Budapest, understandably, receives the large bulk of visitors to Hungary. The city absorbs visitors calmly, mainly because there are many different paths people can take. Beyond the capital, tourism is surprisingly light. Coach tours are popular from Budapest; they spend a day hopping quickly between historic towns and attractions. But the appeal of places like Pecs, Sopron, and Eger is found from late afternoon onwards. Spend the night, and you discover so much more, local life playing out in the old part of town and iconic architecture illuminated after dark. When hopping between these beautiful towns you should not rush. Simply allow a day in an old town builds, am excellent picture of both eclectic heritage and a convivial present.
Spa Relaxation
Egerszalok hot springs thermal water.
You are never far from a spa in Hungary. Budapest's thermal springs are exotic architectural attractions, and that is before you get in the water. Started by the Romans, improved by the Ottomans, then made glorious in the 19th century, these springs are an iconic way to rest the feet when you have spent days in the city. Therapeutic bubbles come up elsewhere in the country and you will find spa hotels scattered across the west, some hidden in forests, others perched above a historic town. Travel north of Budapest and cave baths like Miskolc-Tapolca are another way to soothe the muscles.
Pictured above is Sopron red and white wines region.
Hungary is wonderful for seven months of the year. Then it gets cold and grey, with most nights dipping below freezing throughout winter. Provided you have a good warm coat, Budapest can be visited all year round; the cold weather is balanced by the complete lack of other tourists. The rest of Hungary looks drab through the winter, and the tourism industry grinds to a standstill.
Throughout summer you can almost guarantee eight to ten hours of sunshine every day, just with the odd thunderstorm in between. June to August are glorious, May and September are not bad either. Just note that July and August is peak tourist season so it is  worth getting out of Budapest so you are not only in places where crowds can congregate.
Travel during fall, and you should get out into the countryside, especially the forested north, where blankets of ochre and orange fill the panoramas. Budapest has cultural festivals in September and October, another highlight for this time of year. March to May is more than warm enough, even if rain clouds can roll in randomly. Like fall, local festivities and a lack of other visitors make this an excellent time to visit.
The places you stay are part of the Hungarian attraction. Hungary's grand accommodation dates to the late 19th-century, when Budapest and other towns underwent significant renovations. Particularly in the capital city, you will enjoy a choice of period buildings and hotels. Some are in the boutique bracket, owner operated and big on charm. Larger hotels are both Hungarian and internationally owned, in townhouse buildings that sometimes fill an entire street.
Travel beyond the capital and historical towns have a similar appeal, period architecture transformed into superb upmarket accommodation. High ceilings, baroque fittings, grand breakfast rooms; most of these hotels are described as elegant, enchanting, and romantic. Many are well suited for families: these magnificent buildings are typically in the heart of a city or town, minimizing travel time to attractions. As tourism increased in the late 20th century, the old hotels renovated, and most of the larger ones are now equipped with interconnecting rooms.
Outside urban areas you can stay in castle hotels, a romantic accommodation that feels like an escape from the world. Accommodations offer incredible spas, along with the bounty of nature extending from the front door. Many spend the night on a boat as they travel through Hungary on a cruise. Note that this is not always particularly convenient in Budapest, as you may have to dock a long way from the heart of the city. When starting or ending a cruise in Hungary's capital, it is worth extending the trip with a night or two that is more central. When picking a Budapest hotel, it is easy to become preoccupied with choosing a location in Buda or Pest. Instead think about proximity to one of the river bridges in the heart of the city, or a well-connected metro line – Budapest has an excellent underground.
Aerial view of Gyor.
Hungary is a member of the European Union and Schengen Area. U.S. and Canadian nationals do not need a visa to travel here. EU nationals do not need any visa to live or work in the country.
Planning a Hungarian vacation almost always revolves around Budapest. It is the primary destination and the transport crossroads. Budapest is also where the country's main international airport is located. The next question: just Budapest or Budapest plus more of Hungary. There is a well-trodden tour of grand European capitals that combines Budapest with its relatively nearby neighbors: Vienna, Prague, and Berlin among others. From Hungary, you are not far from Poland's historical cities. You can also choose to travel south into the Balkans, with Serbia, Croatia, and Slovenia, just a hop across the border.
Combine Budapest with more of Hungary, and you quickly go off the beaten track. It is always surprising how other destinations receive hardly any visitors, even during peak season. With the capital city being geographically central, it is easy to loop through western or northern Hungary, then return to Buda or Pest and travel onwards.
Hungary is yet to adopt the Euro but has a well-developed banking system. ATMs are abundant in towns and cities, almost all of them accepting international cards. They are slowly making the once plentiful exchange bureaus obsolete.
Pictured above is Fuzer Castle in the countryside.
Hungary is a safe and welcoming country. It is rare that visitors encounter any problems. Many leave feeling healthier than when they arrived, thanks largely to the soothing hot springs. Ever since the Romans, this land has been revered for its therapeutic qualities. Laying back in springs and spas also provides downtime on a busy vacation. Tap water is safe to drink in Budapest, although some visitors avoid it. Drinking tap water is not recommended outside the capital.
Violent crime is infrequent in Hungary. Like most of the world, there is an element of petty crime, particularly in the capital. This is mostly restricted to pickpocketing on public transport, and taxis or touts cheating visitors on prices. There has been increased animosity towards immigrants, both politically and on the streets. An old law requires everyone to carry their passport or ID card with them at all times, and it is essential to fall in line with this as checks have increased exponentially.
Goulash traditional soup.
Immersing yourself in Hungarian culture is part of the experience, and it is not something that is hard to do. Travel beyond the middle of Budapest, and you will find the country to be big on promoting tradition and folklore. A day in a spa or hot spring is one way to start. The locals spend whole days in the baths, taking their chessboards and going for a natter with old friends.
Food is another easy custom to explore, with goulash just the start of heavy local meals that are big on flavor. An old-world csarda, a tavern is the best place to taste the classics, like trout with almonds, chicken with paprika, game meat, and halaszle, hot fish soup. All towns have their cukraszda, local confectionary for grabbing a coffee and a sweet pastry. There's plenty of beer to drink, especially in a sorozo (pub), although the distinctive highlight is tasting in a pince (wine cellar). Hungary has 21 wine regions, and there are a great number of varietals to try.
Traditional Hungarian folk attire.
Folk traditions show you something from Hungary's eclectic past. Performed everywhere, but mostly in smaller villages, the peculiar dancing styles have an exuberance and energy that's quick to whisk you away; just admiring the embroidered costumes is a highlight. The further you travel from Budapest, the more you can enjoy odes to the Magyars, including costumes ceramics, horse-back games and folk music.
Bory Var Castle Szekesfehervar, Hungary.
Hungary is elegant and charming, on the Danube and beyond. It is a country with dozens of famous postcards, especially in Budapest. It is also a country that has stood at the crossroads of Europe for two millennia. There are stories behind the postcards and much more to uncover when you are with the locals.
Each Zicasso tours is unique and handcrafted, made and operated by specialists in the country you travel. We will connect you with the trusted operators who understand Hungary like the back of a proverbial hand. It is these experts that will make Hungary come alive, in Budapest and far beyond.
Reviews of Zicasso's Referral Service
Reviews on Zicasso are all from real travelers who used our service, booked a trip, and traveled.